Welcome to WinnersStory.com to get yourself motivated by exploring the journey of successful persons around the world. Successful stories make us inspired, motivated, strong, and so on. Today we want to bring you the wonderful journey of one of the greatest footballers of all time Cristiano Ronaldo Story.
Born: 5th February 1985
Height: 1.87 m(6 ft 2 in)                    Net worth: $500 M (approx. as of 2021)
Cristiano Ronaldo Story and Family
Cristiano Ronaldo dos Santos Aveiro was born on 5th February 1985 in Santo António, Funchal in Madeira, Portugal.
He was the youngest of his family, his mother Maria Dolores dos Santos Aveiro was a cook and his father José Dinis Aveiro was a gardener. And he has one elder brother Hugo and two elder sisters, Elma and Liliana Cátia.
Cristiano got his second name as Ronaldo because his father was a great fan of actor Ronald Regan then US president.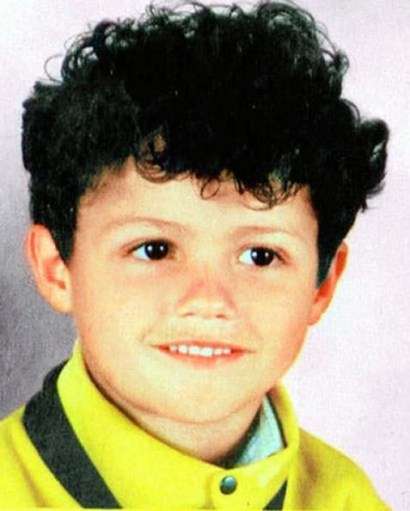 Start of Cristiano Ronaldo's Journey
Ronaldo started his football career at the age of 8 for team Andorinha, where his father worked as a kit man. Then he spent two years with the local club Nacional.
Then Sporting CP signed him for a fee of £1,500 when he was the age12. With Sporting CP he trained at the club's football academy with other youth players in the club.
At the club, he becomes the only player to play from Under 16 to Under 18 in a single season.
Cristiano Ronaldo's real test in life
At the age of 14, Ronaldo believed that he can become a professional footballer. So, he discontinued his education to focus his entire energy on football.
During those days, his family lived in a financial crisis that never let Ronaldo down. He continued his football training day and night.
"All he wanted to do as a boy was to play football. He love the game so much he would miss or escape out of his bedroom window with a ball when he was supposed to be doing his homework" – Grandfather of Cristiano Ronaldo
Ronaldo has diagnosed with a Racing heart a year after. Racing is a condition where the heart rate exceeds the normal resting rate.
This was the situation when Ronaldo has to decide whether to go for the operation or give up football. But the passion for football forced him to go for the operation. Then with laser treatment operation, Ronaldo was fine.
Journey to Red devil's Manchester United
During his stint with Sporting CP, he was suggested to Liverpool and Barcelona. Then in 2002, he met Arsenal manager Arsene Wenger who was interested in signing up but things could not materialize.
The turning point of his career came when Manchester United manager, Sir Alex Ferguson spotted Ronaldo skills when Sporting CP defeated United 3-1 during the inauguration match of Estádio José Alvalade stadium in Lisbon.
Manchester players asked Sir Alex Ferguson to sign him after his exceptional performance against them.
Manchester United signed Ronaldo for a transfer fee of £12.24 million. It was that time that made him the most expensive transfer fees for a teenager in English football history.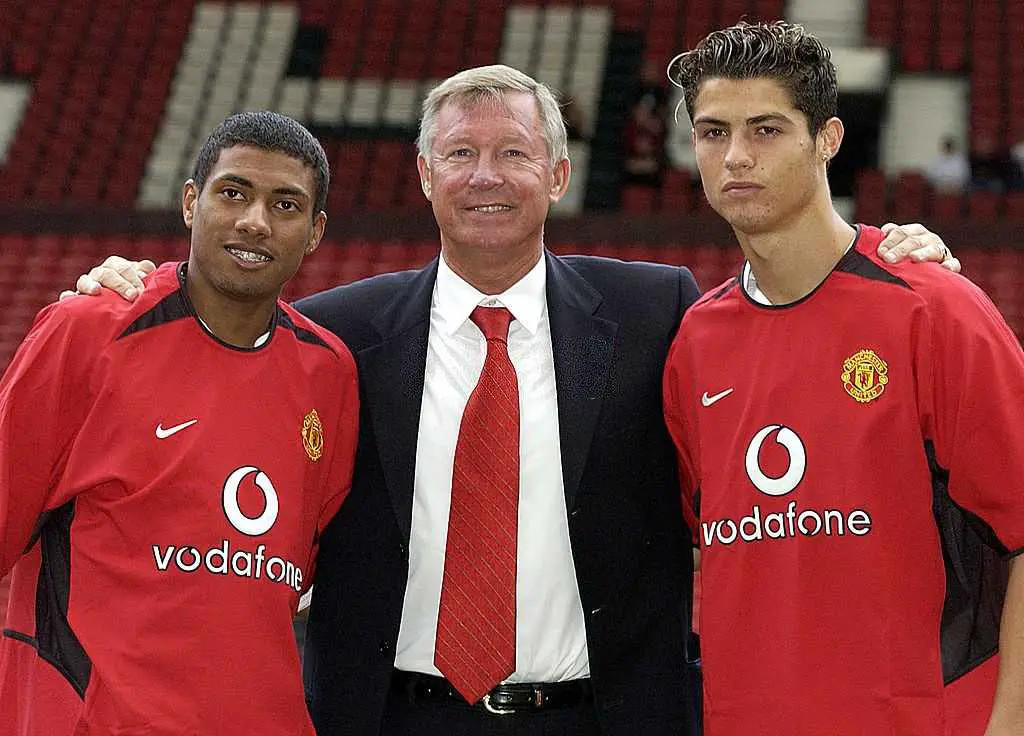 Image Credit: Matthew Peters
/
Getty Images
"Ronaldo become the first Portugal player to play for Manchester United"
Sir Alex Ferguson offered Ronaldo number 7 shirt which was previously worn by United great George Best, Eric Cantona, and David Beckham.
Ronaldo made his debut for Manchester United in August 2003 against Bolton Wanderer, when he came as a substitute in the 60th minute.
"There have been few players describes as "the new George Best" over the years but this is the first time its been a compliment ot me" – George Best, Former Manchester United player on Ronaldo in 2003
Ronaldo's first goal for Manchester United came with a free-kick against Portsmouth where United won the match 3-0. The first season for Ronaldo with Manchester United ended with the FA Cup trophy against Millwall.
The next two seasons have been a learning curve for Ronaldo and he went on to produce magical games for the United. In November 2005-2006 season, Ronaldo signed a new contract that extends until 2010.
Also Read: 21 Inspirational Jim Carrey quotes that can change your life
Cristiano Ronaldo's first premier league title
In the 2006-2007 season, Ronaldo scored 17 goals in the premier league where Manchester United clinched the title for the 9th time. Then he won several awards for the season. The main achievement is the runner-up for the Ballon d'Or award. And third in FIFA World player of the year for 2007.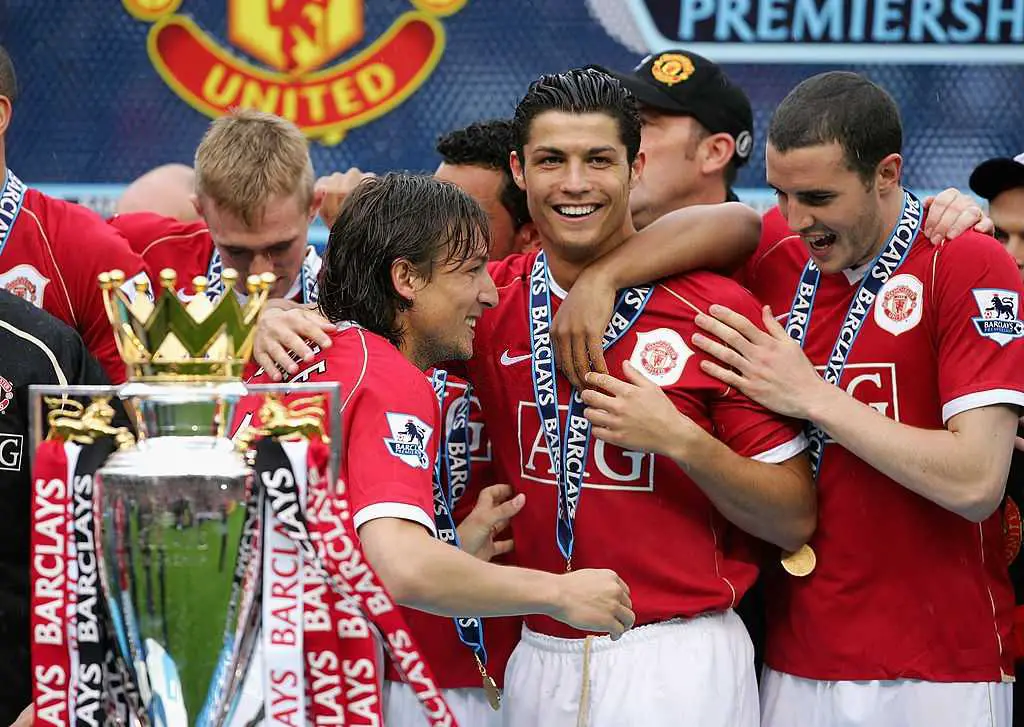 Image credit: Alex Livesey
/
Getty Images
His achievement at the end of the 2006-2007 season proved his words which he said during the start of his career.
"I want to be one of the best player around in two or three years' time "- CR7 in 2004
In 2008, Ronaldo captained Manchester United for the first time in a home match against Bolton where he scored two goals for winning cause. Manchester United lifted the premier league for a successive time in 2008 with Ronaldo scoring 31 goals. His performance earned him Premier League Golden Boot and European Golden Shoe award.
Then in the UEFA Champions League, he was the top scorer with 8 goals which guided Manchester United to the champion's league title after 1999. His performance in the champion's league leads to the UEFA Club footballer of the year.
Ronaldo continued his success with Manchester United for the 2008-2009 season. He scored 18 goals in the Premier league which lead Manchester United to the third successive premier league title and also the FIFA Club World cup. He has received both Ballon d' Or and FIFA world player of the year in 2008.
Ronaldo ended the season with Manchester United reaching the finals of the UEFA Champions League where they lost to Barcelona 2-0. He ended his time with Manchester United by scoring 118 goals in 292 appearances in different leagues.
Strong heart of Cristiano Ronaldo
On the initial journey to success, there was a personal loss to Ronaldo in 2005. His father José Dinis Aveiro died due to alcohol-related liver problems. Since then Ronaldo said he never drink alcohol. Even after his father died, Ronaldo continued his football journey with a strong heart.
In 2004, Ronaldo visited Indonesia to raise funds for rehabilitation after the Tsunami. During Tsunami Ronaldo saw a boy in a video wearing the number 7 Portugal football shirt who was struck for 19 days which impacted Ronaldo'sheart.
Cristiano Ronaldo move to Real Madrid
Real Madrid signed Ronaldo for a whopping transfer fee of £80 million which was a world record at that time. He made his La Liga debut for Real Madrid against Deportivo La Coruña. He also scored his debut goal in the same match through a penalty.
Image Credit: AFP
Ronaldo was given the number 9 shirt since the number 7 was with Raúl'. But eventually, he got the number 7 in the 2010-2011 season after Raul departs from the club. During the season he was runner up for both Ballon d' Or award and FIFA world player of the year award behind Lionel Messi. Ronaldo ended the season with 33 goals in all leagues.
The next season for Ronaldo in Real Madrid saw him breaking many records. He lifted his first trophy for Real Madrid against arch-rival Barcelona by scoring a crucial goal in the last minute in Copas del Rey's final match. He went on to score 53 goals in the season.
In the 2011-2012 season, even though he scored plenty of goals, the success for a major trophy haunted him. He missed a crucial penalty against Bayern Munich in the semi-finals of the champions league.
First La Liga trophy for Cristiano Ronaldo
Real Madrid won the La Liga trophy in the 2011-2012 season by topping the table with 100 points, nine points clear of arch-rivals Barcelona. He went on to score 46 goals for the team in the season. For the FIFA Ballon d' Or award, Ronaldo finished second behind Lionel Messi.
What is FIFA Ballon d' Or award?
"FIFA Ballon d' Or is an international award given jointly by FIFA and France Football to the world's best Men's football player. Players were selected based on votes from International journalists and national team coaches and captions. FIFA Ballon d'Or award ended in 2016"
Next season is a bit of a silent season for Ronaldo as Real Madrid fails to retain the La Liga trophy. The only positive came in terms of retaining the Supercopa de España. Ronaldo again finished runner-up in the FIFA Ballon d' Or award in 2012.
Goal machine – Cristiano Ronaldo
Ronaldo continued his goal-scoring routine in Real Madrid by scoring crucial goals in the competitions. He went on to captain Real Madrid for the first time in a 4-3 win over Real Sociedad. Then he scored his 200the goal for Real Madrid in his 197th game. But Real Madrid failed to lift the La Liga trophy in the season. Ronaldo ended 2013 with 69 goals in 59 appearances which paved the way for the FIFA Ballon d'Or award for the first time in his career.
"In your life, you do not win without sacrifices and you must take risks" – Cristiano Ronaldo
During the 2014-2015 season, Real Madrid lifted the FIFA Club World cup with a win over San Lorenz0 in the final. Then Ronaldo lifted the second successive FIFA Ballon d' Or award for 2014.
Then in next season for the first time in his career, he scored five goals in a single match against Granada. He went on to become Real Madrid's all-time top scorer.
The Journey with Real Madrid continues
"When you play with Ronaldo on your team, you are already 1-0 up." – Zinedine Zidane
In November 2016, Ronaldo signed a new contract with Real Madrid that runs until 2021. Ronaldo then won the second FIFA Club World cup and went to win the Ballon d' Or award for the fourth time. Also, he won the inaugural Best FIFA Men's player from FIFA.
Cristiano Ronaldo's hunger for success continued as Real Madrid lifted both La Liga and UEFA Champions league in 2017.
Image credit: Laurence Griffiths
/
Getty Images
Fifth Ballon d'Or award
Ronaldo continued his strong performance with Real Madrid by finishing 3rd in the La Liga table and went on to lift the 3rd consecutive Champions League title.
His performance in the 2017-2018 seasons earned him the record fifth Fifa Player of the Year and the Ballon d'Or award.
Ronaldo's last match with Real Madrid was the champions league final against Liverpool.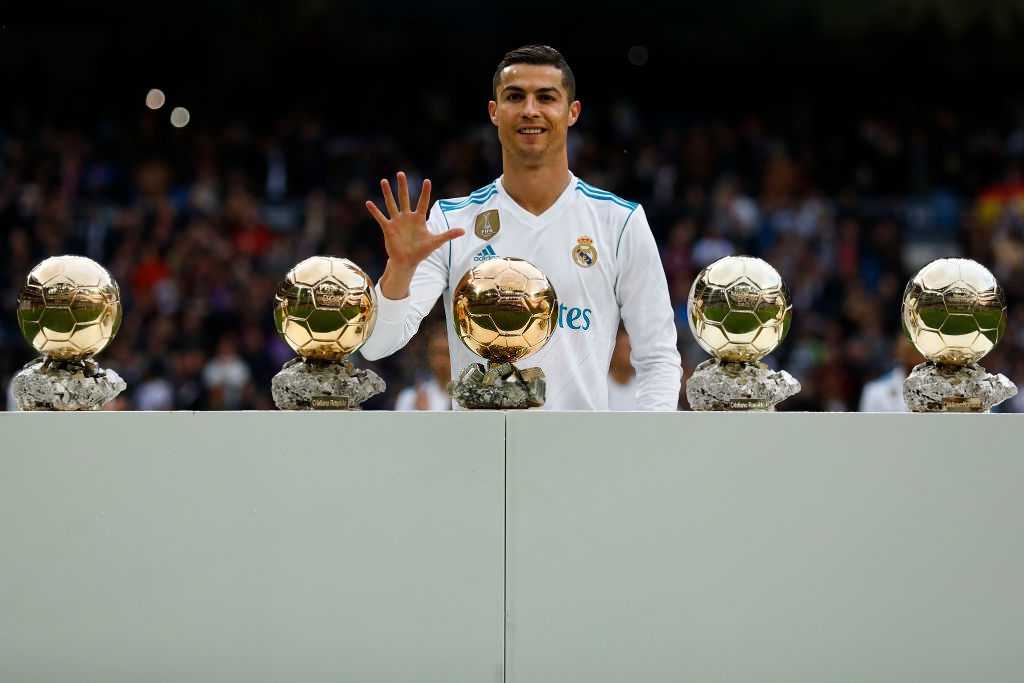 Image credit: Gonzalo Arroyo Moreno
/
Getty Images
La Liga to Serie A – Highest ever paid by an Italian club
2018 – 2019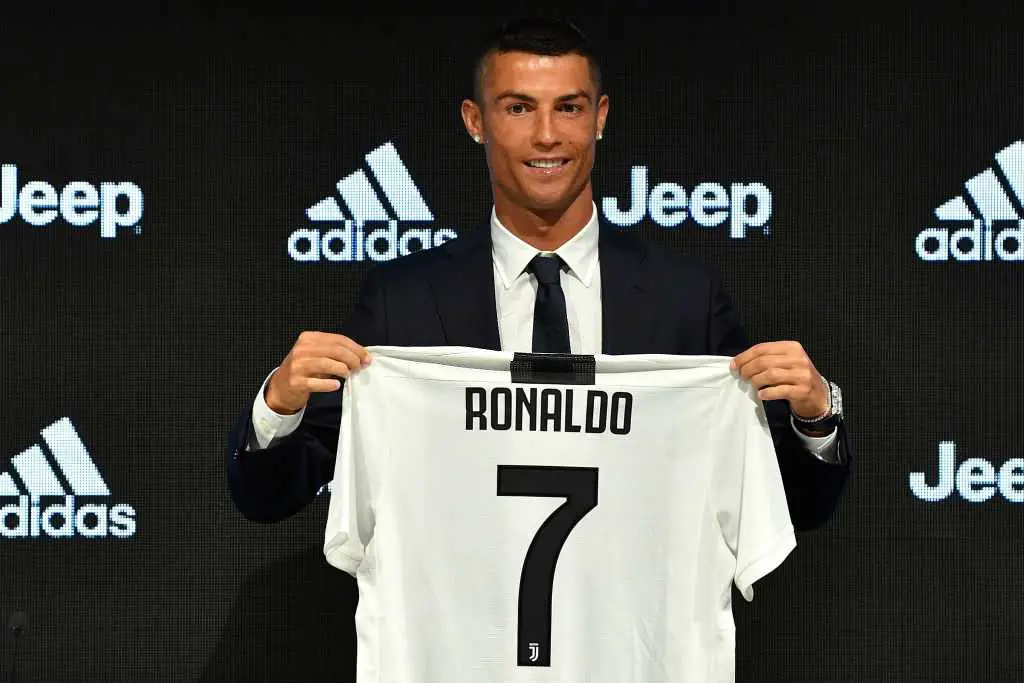 Image credit: Valerio Pennicino
/
Getty Images
Cristiano Ronaldo signed a record €100 million transfer with Italian giant Juventus with an additional €12 million in other fees and contributions to Ronaldo's youth club. Ronaldo's transfer amount was the record for highest ever for a player over 30 years.
His first goal for Juventus came in his fourth appearance for the club against Sassuolo. The first time in his career of 154 champions leagues matches he was shown Red Card for violent conduct on his first champions league match for Juventus.
Ronaldo becomes the first player in history to win 100 champions league matches.
Ronaldo finished second in all three UEFA Men's Player of the year, The Best FIFA Men's Player, and Ballon d'Or which were announced in 2018.
Juventus won their eighth consecutive Serie A title which made Ronaldo the first player in history to lift league titles in England, Spain, and Italy.  Ronaldo ended the season for Juventus with 21 goals and 8 assists and thereby winning the inaugural Serie A award for Most Valuable Player of the season.
2019 – 2020
During this season, Cristiano Ronaldo broke many records like Most Champions League Wins of all time, Scoring against 33 different Champions League teams, being the second player in history to score Hat-Tricks in Premier League, La Liga, and Serie A, and many more records.
Ronaldo's highlight of the season came when he headed the winning goal by leaping a height of 2.56 m/8.39 ft higher than the crossbar height of 8ft against Sampdoria in Serie A.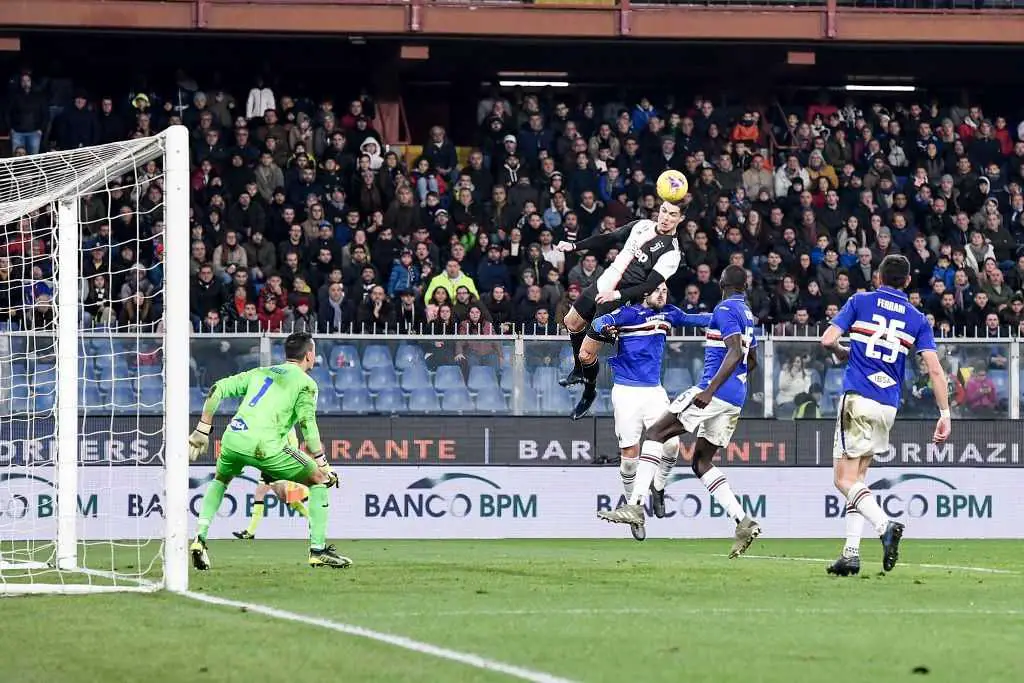 Image credit: Daniele Badolato
/
Getty Images
Then he went to score his first Serie A hat-trick against Cagliari. and become the second plays after Alexis Sánchez to score hat tricks a premier League, La Liga, and Serie A.
Ronaldo helped Juventus winning Serie A for a record ninth consecutive time by scoring more than 30 goals in the season.
2020 – 2021
He reached his 750th senior career goal during the champions league match. But eventually, Juventus were knocked out of the champion's league at the round of 16 by Porto. Juventus won the Coppa Italia final and Ronaldo become the first player to win every major domestic trophy in England, spas, and Italy.
Legend back to Manchester United
In August 2021, returned to Manchester United after they had an agreement with Juventus.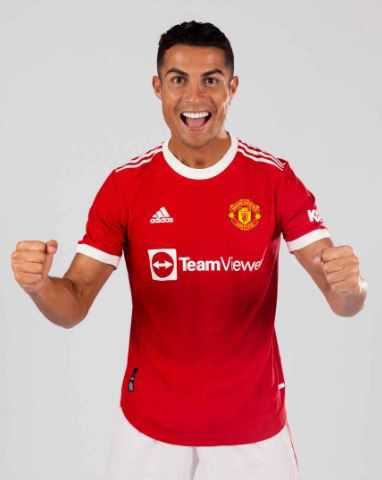 Image credit: Daniele Badolato

/

Manchester United
Cristiano Ronaldo's International career and first world cup
Ronaldo started his international career in 2001 and he represented Under-15, Under-17, Under -20, Under-21, and Under-23 Portugal teams.
Ronaldo played his first match for the senior team in 2003 against Kazakhstan and scored his first international goal against Greece in UEFA Euro in 2004. He helped Portugal reach the final of that tournament against Greece, where Portugal lost. His performance in the tournament earned him a place in the team of the tournament in the UEFA Euro championship in 2004.
Cristiano Ronaldo's scored his first world cup goal against Iran in the 2006 FIFA World cup qualification match. Ronaldo's first World cup ended with a semi-final defeat against France 0-1.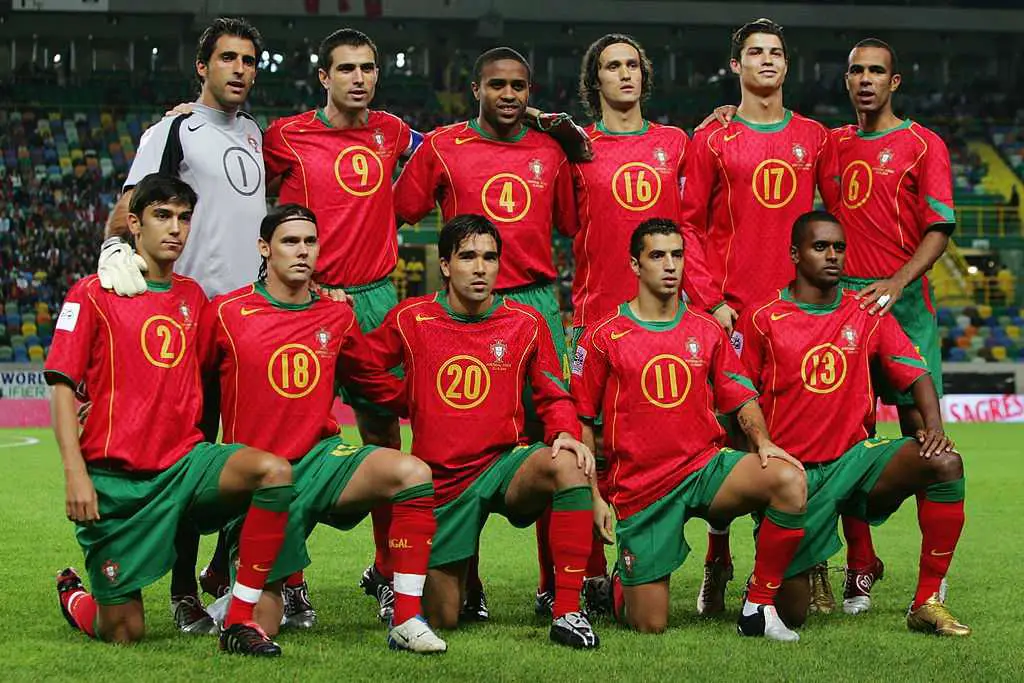 Image credit: Jamie McDonald
/
Getty Images
As Leader of Portugal national team
Cristiano Ronaldo captained Portugal for the first time in a friendly match against Brazil in 2007. He becomes Portugal's permanent captain in July 2008 after Portugal's quarter-final defeat against Germany in Euro 2008.
During the World cup in 2010, Ronaldo won the man of the match in all three matches in the group stage. But eventually, Portugal lost against Spain in the round of 16.
In Euro 2012, Ronaldo scored three goals in the tournament, which made him one of the top scorers of the tournament. But Portugal lost to Spain in the semifinals in the penalty shootout. He was included in the Euro 2012 team of the tournament.
Cristiano Ronaldo's first major title at the International level
In Euro 2016, despite finishing 3rd in the group stage, Portugal entered the knock-out stage due to a new format in the tournament. Then Portugal entered the semi-finals by beating Croatia in the round of 16 and Poland in the quarter-finals. Ronaldo then becomes the first player in history to represent three semi-finals in the Euro championship. He then scored a goal in a 2-0 win over Wales in the semifinals.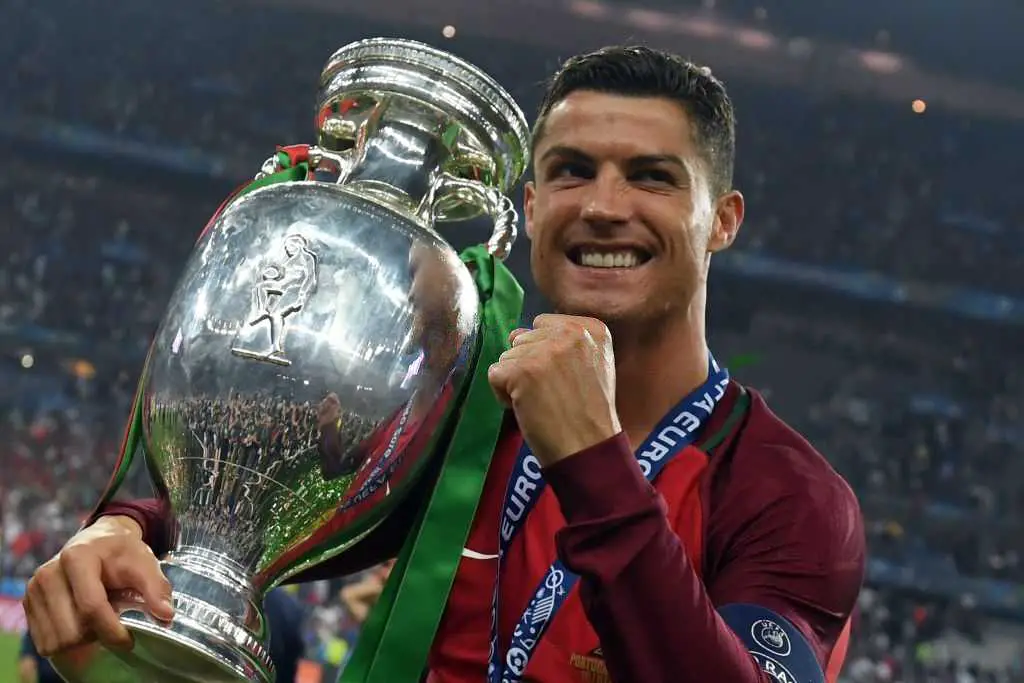 Image credit: Francisco Leong
/
Getty Images
Ronaldo then becomes the first player in history to represent three semi-finals in the Euro championship. He then scored a goal in a 2-0 win over Wales in the semifinals.
Ronald's biggest moment of life came when Portugal lifted Euro 2016 trophy by beating France 1-0 in the finals. Ronaldo received a Silver boot for being second on the top goal scorer list in the tournament. And he was named for the third time in his career in the Euro championship team of the tournament.
FIFA Federations Cup and build up to 2018 FIFA World cup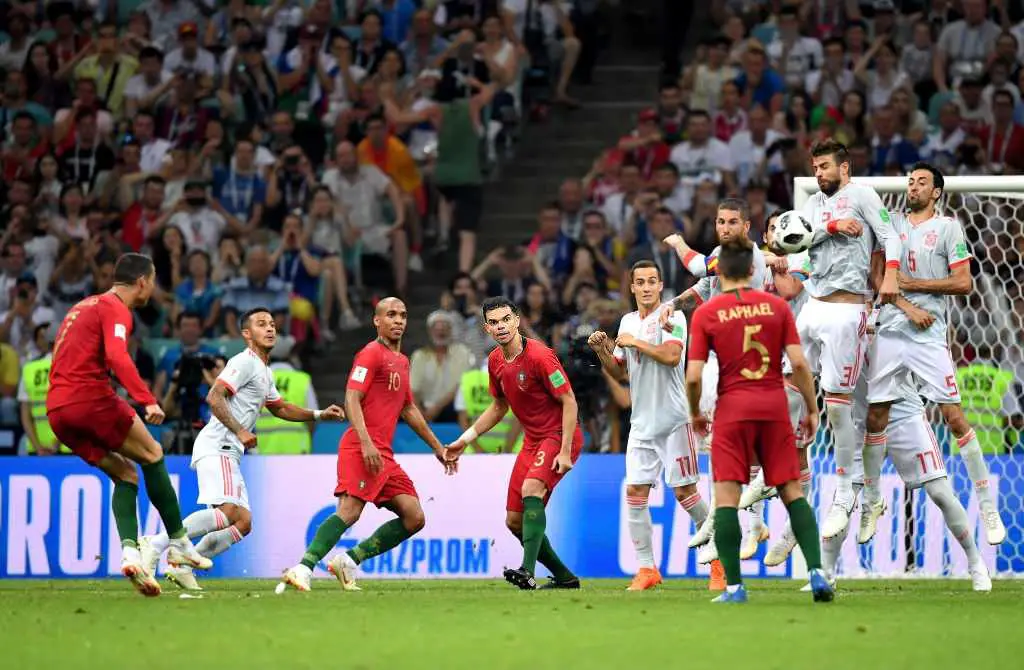 Image credit: Stuart Franklin
/
Getty Images
Portugal qualified for the 8 teams 2017 FIFA federations cup for winning the Euro Championship 2016. Portugal was beaten by Chile 0-3 in penalties in the semi-finals and ended the tournament in 3rd position.
Meanwhile, Portugal qualified for the 2018 FIFA World cup by topping Group-B with 27 points in FIFA World cup qualifiers. They entered the tournament with many expectations for being the Euro champions. Portugal was drawn in Group B along with Spain, Iran, and Morocco. Cristiano Ronaldo started the tournament with a hat-trick against Spain in a 3-3 drawn match. Then Portugal progressed for the next round of the tournament by finishing 2nd in the table behind Spain with 5 points.
Cristian Ronaldo's goals in league matches earned him a joint-highest scorer of all time with 84 international goals.
In the next round of 16, Portugal was defeated by Uruguay 2-1 and Ronaldo ended the tournament with 4 goals and was featured in the 2018 FIFA World Cup Dream as a forward along with Harry Kane and Kylian Mbappé.
UEFA Nations League and Cristiano Ronaldo Story continues
In June 2019, Portugal won the inaugural UEFA Nations League by defeating Netherlands 1-0 in the final.
Portugal qualified for the Euro 2020 by finishing 2nd in Group B behind Ukraine and during the process, Ronaldo scored his 99th international goal and also become the first footballer to score against 40 national teams. Then he achieved to feet of 100 international goals against Sweden.
With Euro 2020 shifted to 2021 due to the Covid pandemic, Portugal started the event on a high note with a 3-0 win over Hungary. But they lost in the round of 16 against Belgium. Ronaldo won the Euro 2020 Golden Boot award for scoring 5 goals and I assist.
And the journey of Cristiano Ronaldo continues…
Information check:
We strive for accuracy and fairness. If you see something that is not correct, please contact us!