Cristiano Ronaldo is one of the greatest footballers of all time. He has been an inspiration for many people around the world.
Born from a poor family, he entered the stage of football and has been ruling it for almost two decades. With five Ballon d 'or awards and many more to come, he showed the world, why he is the best.
Ronaldo showed continuous progress throughout his career, right from starting his professional football career with Sporting CP to re-joining Manchester United.
There are many things we can learn from him and we have gathered 10 important life lessons we can learn from Cristiano Ronaldo. 
1. Have a Goal in Your Life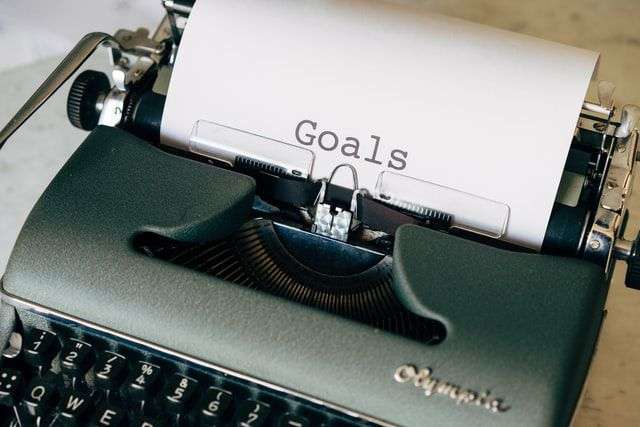 Image Source: Markus Winkler on Unsplash
Ronaldo from childhood had a clear goal of what he wants to do in life, to be a professional footballer. And as he become a professional footballer, his next target was to become the best footballer in the world
Patrice Evra in an Interview told about the conversion with Ronaldo,
"When he won his first Ballon d'Or, He said, I have to win at least five"
The important lesson, that we have to learn here is "Having Goal in life". Most of us don't know what we want to do in life. We just go with the flow and end up procrastinating many things in our life.
Instead, we should set our Goals first and break them down into small milestones and reach them one by one. When we reached our goal, improve on that and aim for the next one.
Remember, without destiny in your mind, you don't have control over your travel. 
2. Do Hard work with Focus and Dedication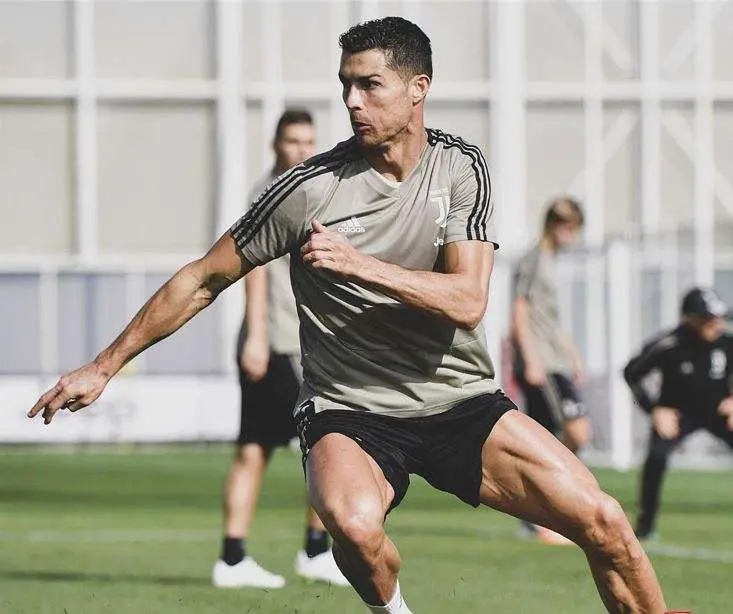 Image Source: Juventus
Ronaldo in today did not arrive overnight. There is a lot of hard work behind it. His dedication and focus on the game started way back from his childhood and continuing till now. He practices day and night to improve his skillset and be the best version of himself.
Even during game days, he goes for training after the game. He will be the first one to enter and the last person to leave in every training session.
He does not give excuses and he practices every single day.
Former Portugal coach, Carlos Queiroz on Ronaldo, "There are some great players that have so much belief that when things are not going well on the training field they just stop. They think, 'I am good, today is not right, but tomorrow it will be fine! They never think there could be a problem. Not Cristiano. He works and works until everything goes right and only then he's satisfied".
So, success cannot come overnight or just by only dreaming. We need to put our dream into action consistently. With continuous hard work, we can achieve anything in life and it applies to every career path we choose.
3. Believe Yourself and build Super Confidence
"I never tried to hide the fact that my only goal is to be the best"
Ronaldo shows a lot of confidence both on and off the field. From childhood, he had strong self-belief that he will be a professional footballer. And he wants to be the best.
He always had faith in himself and without it, he would not have reached the greater heights.
He tells openly what he wants to be and puts all his hard work into that and never compromises.
We always want to achieve something in life. But the biggest drawback in doing so is self-doubt. Most of us doubt ourselves and don't have the confidence to work on our goals. We work for some days and when the results are not coming, we lost our confidence and move away.
Having talent is a great thing but if you don't show it to the world, it's no use. Be super confident in your ability and show the world. 
4. Learn continuously and Adapt to the Changes
When Ronaldo played for Sporting CP, he impressed Manchester United players with his dribbling skills during their friendly match. This paved the way for Manchester United signing him.
He was known for dribbling in the initial phase of his careers such as the Step overs and the famous Ronaldo 'chops!
As he moved, he underwent Major physical transformation, developing a muscular body, to improve his strength and jumping ability that made him an aerial threat in the penalty area. He also becomes a set-piece specialist and an effective goal scorer.
And he kept changing his game as he became older, like dribbling less but his energy remained high.
The important life lesson from Cristiano Ronaldo here is, never stop learning. You can be an expert on a particular topic but you cannot survive with that in the long run. Change yourself, adapt to the changes, play with your strengths and keep on learning. Nobody can stop you.
5. Have a Positive Attitude in life and Don't mind the criticism from the haters
Ronaldo has always been described as having an arrogant image on the pitch by the media. And his haters used to describe him, that he is not a naturally skilled footballer.
With all these negative sounds around him, nothing bothered Ronaldo. He looked at them in a positive mindset and kept on improving his game. Now many of his earlier haters were fans of him.
"I don't mind people hating me, because it pushes me"
Criticism and haters are part of our life. We might have changed or might have left doing what we loved to do because of negative comments around us. But we should never let any criticism goes to our head.
Just focus on what we want to achieve in our life and never stop.
6. Leave Your Comfort zone and enter the Growth zone
At a young age, Ronaldo moved from his hometown to Lisbon for joining a youth football academy. He was homesick during those days but he continued his focus on the game.
At the age of 14, he agreed with his mother to discontinue his education to focus only on football. He believed that he has the ability to play professional football.
Comfort is the main roadblock for anyone's success. We cannot achieve anything by simply staying in our comfort zone. We need to sacrifice something to achieve something.
If we want to be fit, get out of bed by 5 am and hit the gym. To be healthy, remove those junk foods. To be a musician, sacrifice those TV times and practice with your instruments.
Anything is possible in life if we sacrifice.
7. Take care of Your Health and Be Fit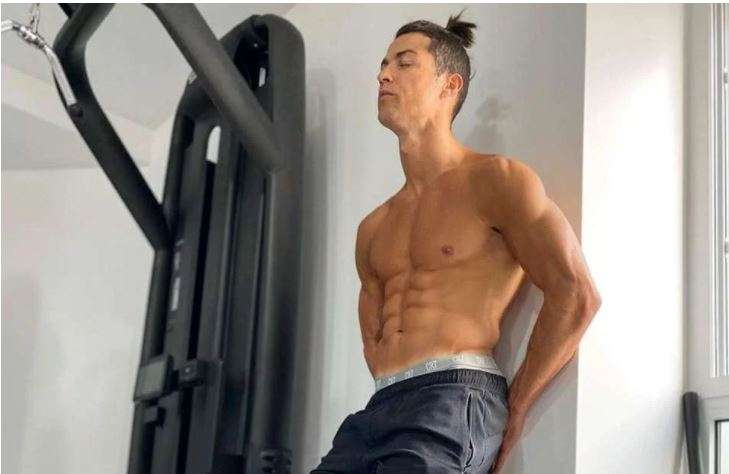 Image Source: Cristiano Ronaldo/Instagram
One of the important life lessons we all can learn from Cristiano Ronaldo is Fitness.
Ronaldo is one of the fittest athletes in the world and has been an inspiration for millions. He maintains a strict diet and does not consume alcohol.
He improved his fitness throughout his career that helped him to keep his game on high and relatively injury-free.
When Ronaldo joined Juventus his medical report has been compared to that of a 20-year old. His body fat was just 7% when compared to other footballers, where their average is around 10 or 11%. His muscle mass was 50% (percent), which is around 4% higher than other footballers at his age.
To add that, he recorded a top sprint speed of 33.9 Kmph during the 2018 FIFA World Cup, which was faster than anyone in the tournament.
As we know the famous saying, "Health is wealth". If we take care of our health, it will take care of other things in our life.
Having healthy foods and excising regularly, gives us the physical and mental energy to be at our best throughout our life.
8. Be a Leader and Focus on Your Team Success
Ronaldo has many leadership qualities like taking the pressure during critical situations like penalties, supporting the teammates, setting benchmarks in the training, and hunger to be the best. And above all gaining the trust of the teammates.
For him team comes first, his target is always to win the game. Even though he has scored many goals in his career, he equally assisted many goals for the team.
Leadership is an important quality one should possess. You don't need to be the best talent to lead the team. As long as you have respect from the team and the attitude you show, you can be a great leader.
Always think about your team goals first then your individual targets.
9. Get a Mentor and learn from them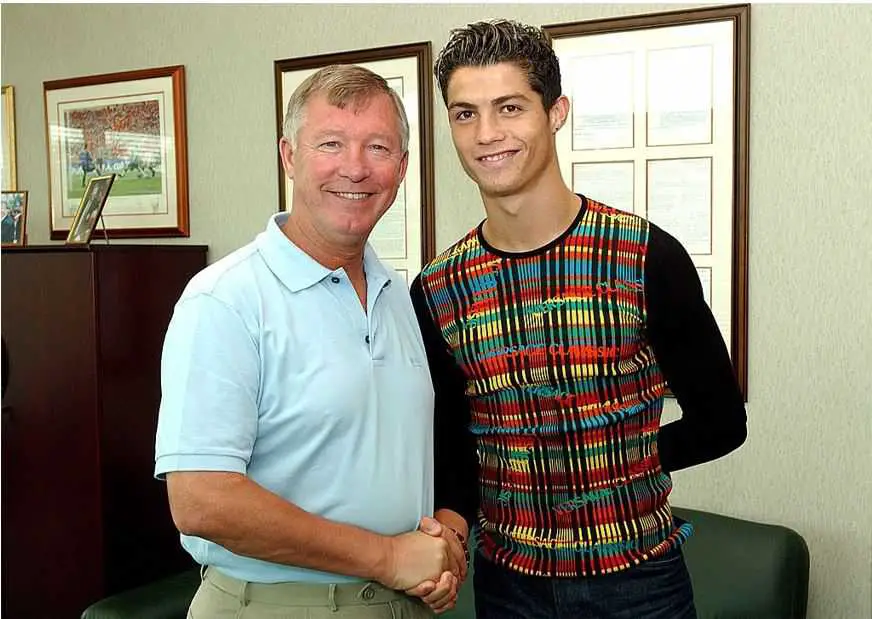 Image Source: John Peters/Getty Images
When Ronaldo joined Manchester United he was just 18 years old. He had the talent but to guide him into the right path he needed a mentor.
Sir Alex Ferguson was the one, who played a key element in the development of Ronaldo.
"He's been my father in sport, one of the most important and influential factors in my career!
Similar to Ronaldo, we need a mentor in our life. They will help us to see both sides of the coin or show us the different views altogether.
We need to be open to feedback in order to achieve success.
10. Spend Quality Time with Your Family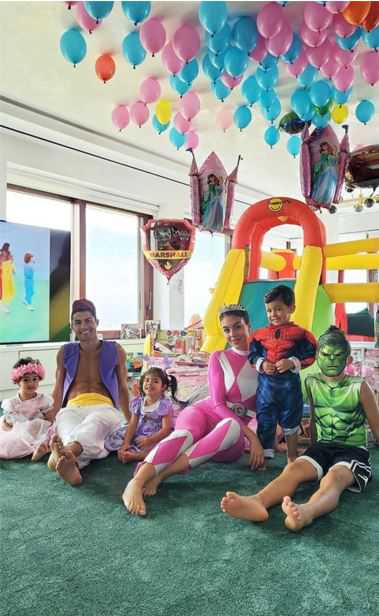 Image Source: Cristiano Ronaldo/Instagram
Ronaldo is a family man. He spends quality time with his family even with his hectic schedule and he loves to play with his children. He often credits his success to his mother. She has been the backbone throughout his career.
Having a supportive family is a great thing for a person. They are the one who cares the most for us. So, it's very important to spend quality time with your family. Enjoy your time with them which helps you to relieve the stress and helps you to achieve more in your life.
---
We hope you must have learned some important life lessons from Cristiano Ronaldo. Some of the lessons you might have already done and some, you want to do in your life. Start them immediately, you will benefit a lot in your life.
Some crazy fans of Cristiano Ronaldo might feel that we might have missed some lessons. Please feel free to comment below, so all can learn from that.
If you like this post, share it to reach many people.
More collections for you:
7 Marvellous Benefits on Why You Must Trust the Process in Your Life
7 Life Lessons We Can Learn from MS Dhoni
Steffi Graf Biography – Only Woman player to Win Golden Grand Slam
Information check:
We strive for accuracy and fairness. If you see something that is not correct, please contact us!