Serena Williams has 23 Singles Grand slam titles under her belt and stands second in all-time rankings and most by any player in the open era.
Williams retired from the sport after the US Open 2022 and was widely considered one of the greatest women's tennis players of all time.
She is an inspiring superwoman for many women across the world. Serena wanted to play tennis at the age of four and dominated the tennis court till the age of 40.
Serena Williams ranked World No.1 in singles for a record 319 weeks and was the highest-earning woman athlete of all time.
Success doesn't come easily for her. Serena had to train hard, cope with injuries and maintain consistency throughout her career on the court.
With the great career in her hand, let us look at some of Serena Williams's Quotes that can help you raise your level in life.
---
Serena Williams Famous Inspirational Quotes
1. Believe in Yourself
"You have to believe in yourself when no one else does." – Serena Williams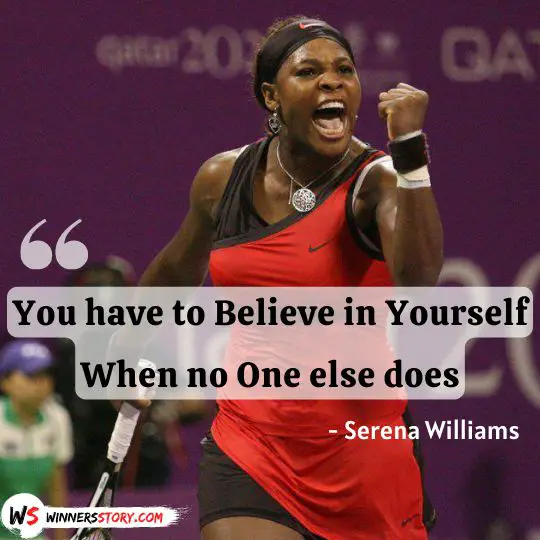 Image Source: Hanson K Joseph via Wikimedia Commons
---
2. Be a Fighter
"I've always been a fighter and I've always fought through things my whole life." – Serena Williams
---
3. Losing makes You Motivated
"If anything, you know, I think losing makes me even more motivated." – Serena Williams
---
4. You can't Rewind Your Time
"I decided I can't pay a person to rewind time, so I may as well get over it." – Serena Williams
---
5. Love Yourself
"I think you have to love yourself before you fall in love. I'm still learning to love myself." – Serena Williams
---
6. Perfectionist
"I'm a perfectionist. I'm pretty much insatiable. I feel there's so many things I can improve on." – Serena Williams
---
7. Live in Present
"I don't have regrets. I don't live in the past. I live in the present and learn not to make the same mistakes in the future." – Serena Williams
---
8. Love as You are
"I love who I am, and I encourage other people to love and embrace who they are. But it definitely wasn't easy – it took me a while." – Serena Williams
---
Serena Williams Quotes about Tennis

 
9. On Concentration
"If you can keep playing tennis when somebody is shooting a gun down the street, that's concentration." – Serena Williams
---
10. Thinking only about Tennis
"All my life I'd woken up to tennis, tennis, tennis. Even if I don't go to practice, I'm thinking about it all day." – Serena Williams
---
11. Tennis is My Job
"Tennis is my job, but it's not my life." – Serena Williams
---
12. Game goes up
"Once I serve well, my whole game goes up." – Serena Williams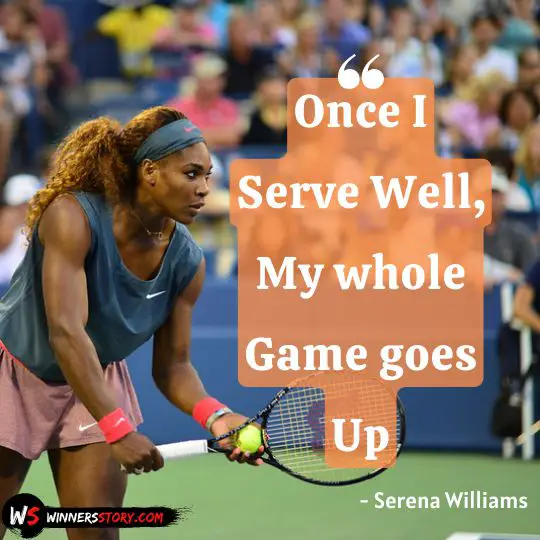 Image Source: Edwin Martinez via Flickr
---
13. Always Good to have Small Wins
"It's always good to get a smaller tournament under your belt so that by the time you get to the Slams, you have a lot of experience." – Serena Williams
---
14. Family First
"Family's first, and that's what matters most. We realize that our love goes deeper than the tennis game." – Serena Williams
---
15. Sport Changed My Life
"Sport has literally changed my life. I'm here because of sport. It has given me a lot of confidence, a lot of courage, and a lot of discipline. It's helped me to be the person that I've grown to be today." – Serena Williams
---
 

Serena Williams Quotes on Success
16. Raise each other Up
"The success of every woman should be an inspiration to another. We should raise each other up. Make sure you're very courageous: be strong, be extremely kind, and above all be humble." – Serena Williams
---
17. Rich in Spirit
"Growing up I wasn't the richest, but I had a rich family in spirit. Standing here with 19 championships is something I never thought would happen. I went on a court just with a ball and a racket and with hope." – Serena Williams
---
18. Fight All My Life
"I've had to learn to fight all my life – got to learn to keep smiling. If you smile things will work out." – Serena Williams
---
19. Inspiration to Other
"Every woman's success should be an inspiration to another. We're strongest when we cheer each other on." – Serena Williams
---
 20. Luck has nothing to do
"Luck has nothing to do with it because I have spent many, many hours, countless hours, on the court working for my one moment in time, not knowing when it would come." – Serena Williams
---
Serena Williams Quotes on Winning
21. Victory is Sweet
"Victory is very, very sweet. It tastes better than any dessert you've ever had." – Serena Williams
---
22. No One Can Beat Me
"I always say that when I'm playing well, no one can beat me. I'm not just saying that to sound full of myself or anything, but it's true." – Serena Williams
---
23. Play Well
"When you're playing the best player in the world, you've got to play well." – Serena Williams
---
24. Winning and Losing
"If winning is God's reward, then losing is how he teaches us." – Serena Williams
---
25. Desire to Win is always Stronger
"I am lucky that whatever fear I have inside me, my desire to win is always stronger." – Serena Williams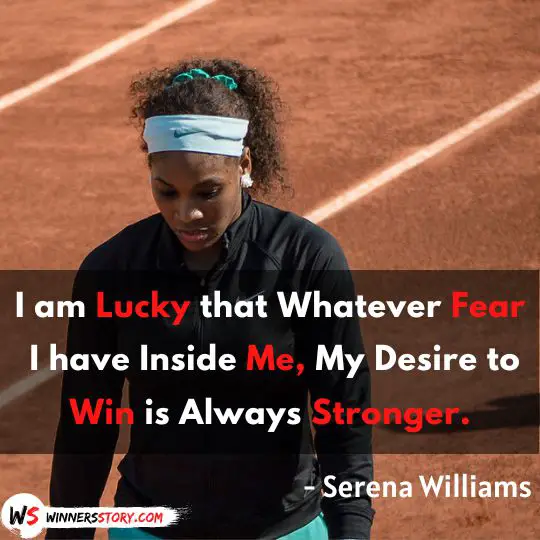 Image Source: Yann Caradec via Flickr
---
 

Serena Williams Quotes on Hard Work
26. Stick and Work Hard
"Everyone's dream can come true if you just stick to it and work hard." – Serena Williams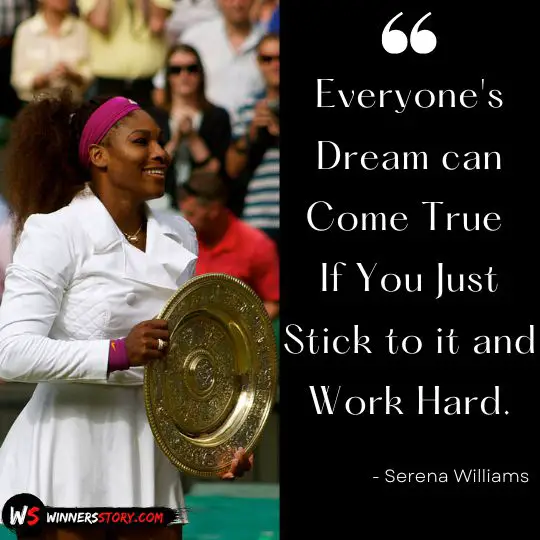 Image Source: Paulobrad via Wikimedia Commons
---
27. Don't let anyone
"Don't let anyone work harder than you do." – Serena Williams
---
28. Learning in Life
"I've had to learn to fight all my life – got to learn to keep smiling. If you smile things will work out." – Serena Williams
---
29. Lose, Get Up and Try again
"With a defeat, when you lose, you get up, you make it better, you try again. That's what I do in life, when I get down, when I get sick, I don't want to just stop. I keep going and I try to do more. Everyone always says never give up but you really have to take that to heart and really do never definitely give up. Keep trying." – Serena Williams
---
30. Comes at a Cost
"Everything comes at a cost. Just what are you willing to pay for it?" – Serena Williams
---
Serena Williams Motivational Quotes
31. On Beautiful
"You can be whatever size you are, and you can be beautiful both inside and out. We're always told what's beautiful and what's not, and that's not right." – Serena Williams
---
32. Different is Good
"Since I don't look like every other girl, it takes a while to be okay with that. To be different. But different is good." – Serena Williams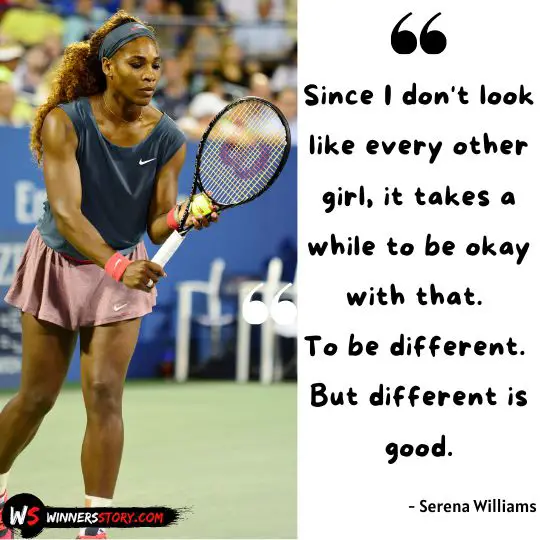 Image Source: Edwin Martinez via Flickr
---
33. Myself the Best
"I've always considered myself the best and the top. I never considered that I was out of it." – Serena Williams
---
34. Argument within
"When I'm down, I talk to myself a lot. I look crazy because I'm constantly having an argument with myself." – Serena Williams
---
35. Until You die
"I think in life you should work on yourself until the day you die." – Serena Williams
---
Featured Image Source: Edwin Martinez via Flickr
What are your Favorite Serena Williams Quotes?  Comment below 
More Quotes collection for you:
40 Inspirational Dalai Lama Quotes that will Lighten Your Day
60 Powerful Progress Quotes to Fuel Your Growth in Life
20+ Will Smith Quotes to Motivate You to Achieve your Dreams in Life