A.P.J. Abdul Kalam was born on 15th October 1931 in Rameswaram, Tamilnadu, India. He was youngest in his family of four brothers and one sister. His childhood days have been difficult one where he sold the newspaper to support his family.
But with his strong desire to learn, he graduated in physics and aerospace engineering. After graduation, he joined DRDO and then to ISRO. He was appointed as project director of India's first satellite launch vehicle. Then he went to head different high profile missile projects for India during his career.
A.P.J. Abdul Kalam was one of the greatest scientists from India and he has taken Indian space research to great heights. In 2002, Abdul Kalam was elected as 11th president of India and was referred as "People's President".
He has been a role model for millions of people around the world and particularly children and youth. His inspirational speeches on different topics like leadership, knowledge, education etc., have been an igniting factor for so many people.
Here will see top 26 Abdul Kalam quotes on different topics like Leadership, Dream, Youth, Leadership and more
A.P.J. Abdul Kalam quotes on Dream
1. "You have to dream before your dreams can come true." – A. P. J. Abdul Kalam
2. "Dream, Dream Dream. Dreams transform into thoughts and thoughts result in action." – A. P. J. Abdul Kalam
3. "Dream is not that which you see while sleeping it is something that does not let you sleep." – A. P. J. Abdul Kalam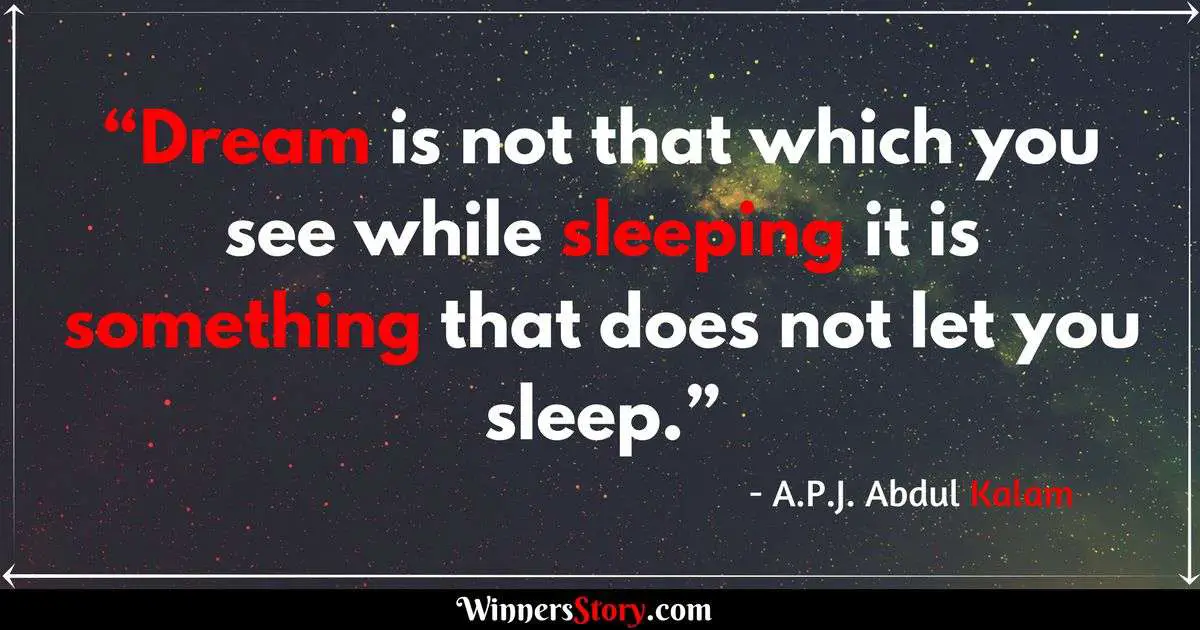 4."Small aim is a crime, have great aim." – A. P. J. Abdul Kalam
5. "Once your mind stretches to a new level it never goes back to its original dimension" – A. P. J. Abdul Kalam
6."What you imagine, is what will transpire. What you believe is what you will achieve." – A. P. J. Abdul Kalam
A.P.J. Abdul Kalam quotes for Youth
7. "The ignited mind of the youth is the most powerful resource on the earth, above the earth and under the earth" – A. P. J. Abdul Kalam
8. "If you want to shine like a sun, first burn like a sun." – A. P. J. Abdul Kalam
9. "Sometimes, it's better to bunk a class and enjoy with friends, because now, when I look back, marks never make me laugh, but memories do." – A. P. J. Abdul Kalam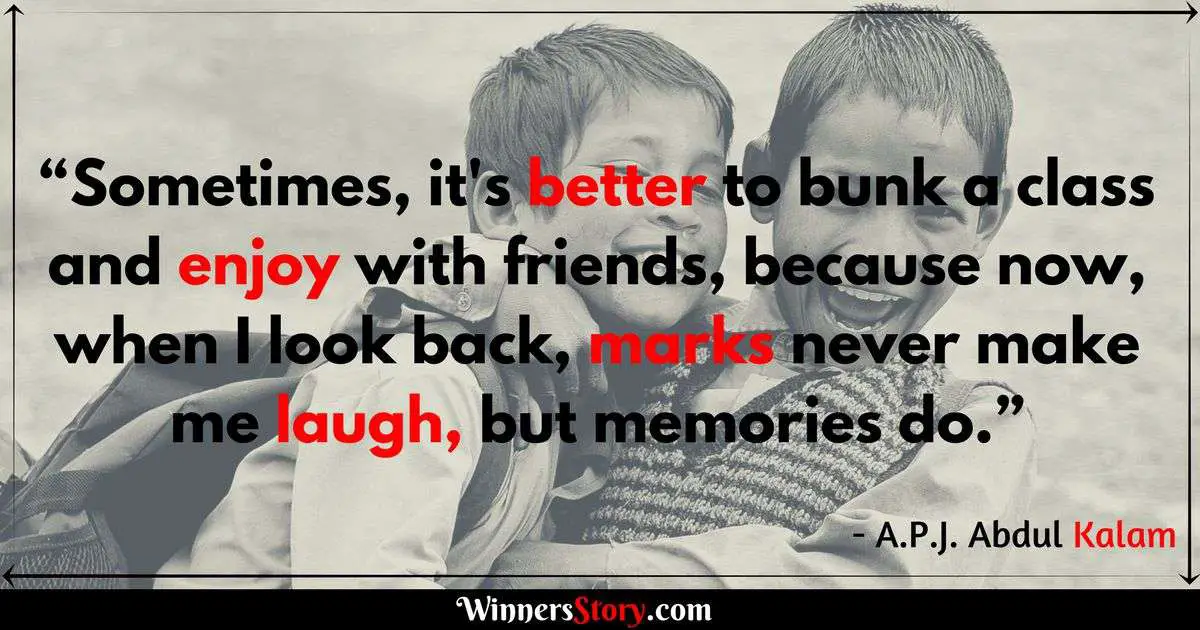 Also Read: 21 Inspirational Jim Carrey quotes that can change your life
10."The best brains of the nation may be found on the last benches of the classroom." – A. P. J. Abdul Kalam
11. "The difference between an energetic person and a confused person is the difference in the way their minds handle their experiences." – A. P. J. Abdul Kalam
A.P.J. Abdul Kalam quotes on Success
12. "Man needs his difficulties because they are necessary to enjoy success." – A. P. J. Abdul Kalam
13. "Don't take rest after your first victory because if you fail in second, more lips are waiting to say that your first victory was just luck." – A. P. J. Abdul Kalam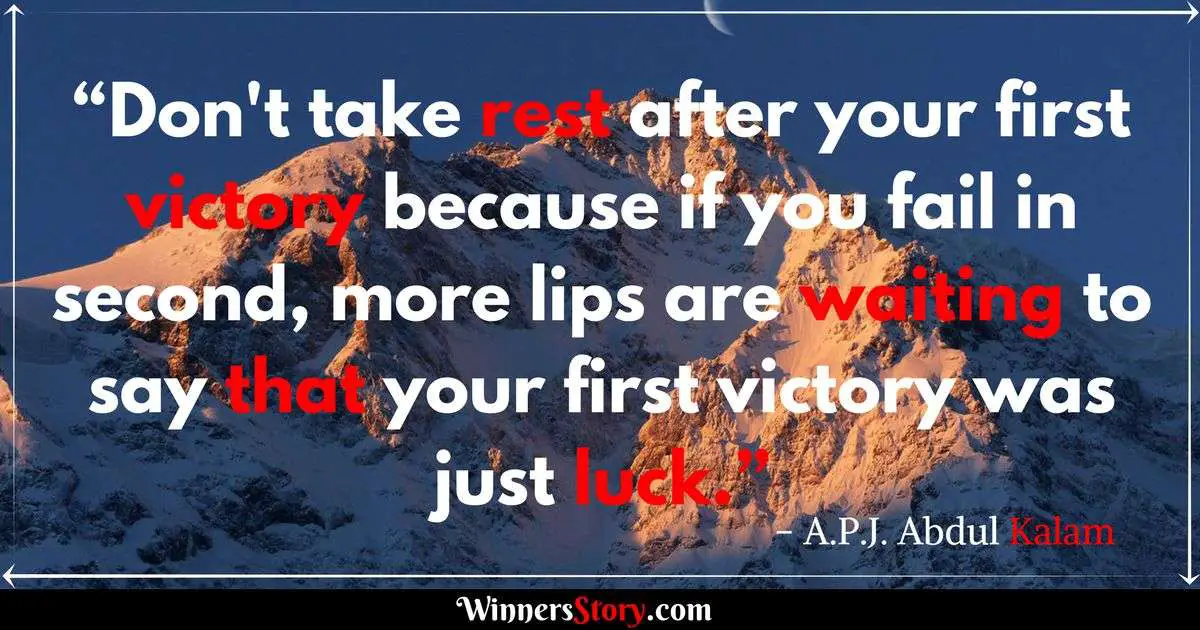 14. "I firmly believe that unless one has tasted the bitter pill of failure, one cannot aspire enough for success." – A. P. J. Abdul Kalam
A.P.J. Abdul Kalam quotes about Leadership
15."It Is Very Easy To Defeat Someone, But It Is Very Hard To Win Someone" – A. P. J. Abdul Kalam
16."Be active! Take on responsibility! Work for the things you believe in. If you do not, you are surrendering your fate to others." – A. P. J. Abdul Kalam
A.P.J. Abdul Kalam quotes on Work
17. "Confidence and Hard-work is the only medicine to kill a disease called failure!" – A. P. J. Abdul Kalam
18. "Excellence is a continuous process and not an accident." – A. P. J. Abdul Kalam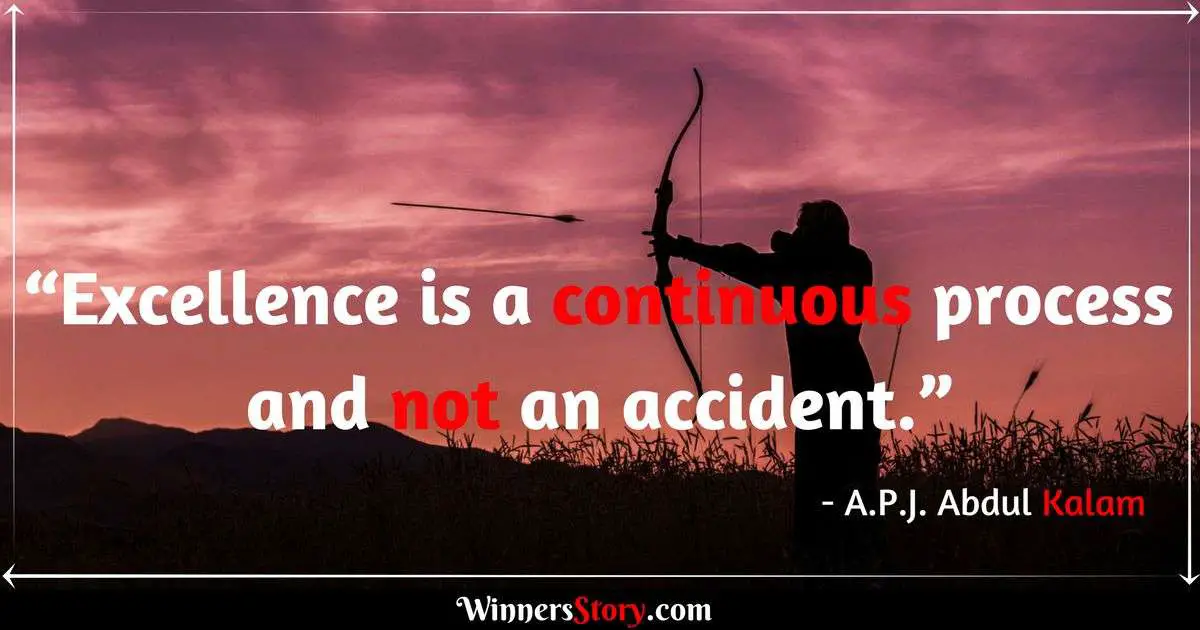 19. "You have to have a goal but you have to have strategies to achieve it as fast as possible." – A. P. J. Abdul Kalam
A.P.J. Abdul Kalam quotes on Knowledge
20."Learning gives creativity. Creativity leads to thinking, thinking provides knowledge and knowledge make you great." – A. P. J. Abdul Kalam
21. "One best book is equal to hundred good friends but one good friend is equal to a library" – A. P. J. Abdul Kalam
A.P.J. Abdul Kalam quotes about Habits
22. "You cannot change your future, you can change your habits. And surely your habits will change your future" – A. P. J. Abdul Kalam
23. "Total commitment is a crucial quality for those who want to reach the very top of their profession." – A. P. J. Abdul Kalam
24. "We should not give up and we should not allow the problem to defeat us." – A. P. J. Abdul Kalam
25. "I am not handsome but I can give my hand to someone who needs help. Because beauty is required in heart, not in face" – A. P. J. Abdul Kalam
26. "Climbing to the top demands strength, whether it is to the top of Mount Everest or to the top of your career." – A. P. J. Abdul Kalam