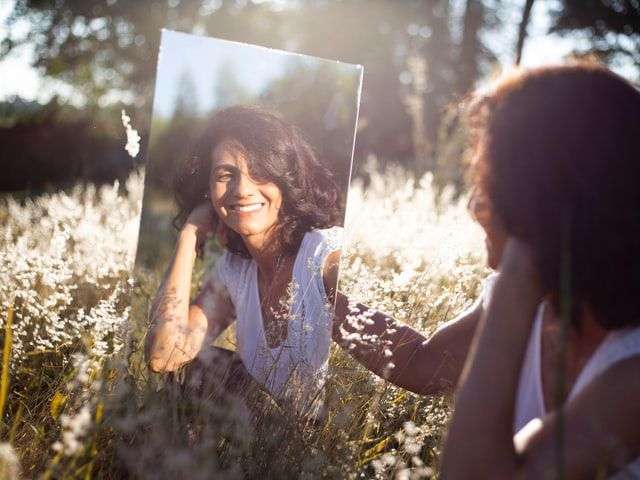 In today's world, you often spend most of your time thinking about the outside world more than the inner world. Self-reflection Quotes will help you to understand the importance of self-realization in your life.
What is Self – Reflection or Personal Reflection? 
The activity of taking time to think about your own thoughts, feelings, desire and behavior, and the reasons that may lie behind them.
Why it's important? 
Self-reflection helps us to analyze your life at different levels like 
     Why did it happen to you?
     What is the impact because of that?
     Whether it should happen again in your life?
Without these questions, you simply travel your life without any thought process. And you will not come to know what is happening in your life is correct or not. 
But if you start spending some time reflecting on your life. It will help you to understand yourself better and respond effectively in the future which helps you as well as others in your life.
Here are the collection of 60 Reflection Quotes on different topics to reflect better in your life
Quotes on Reflection
 
1. "Reflection – Looking back so the view looking forward is clearer." – Unknown
---
2. "Knowing yourself is the beginning of all wisdom." – Aristotle
---
3. "Reflection is one of the most underused yet powerful tools for success." – Richard Carlson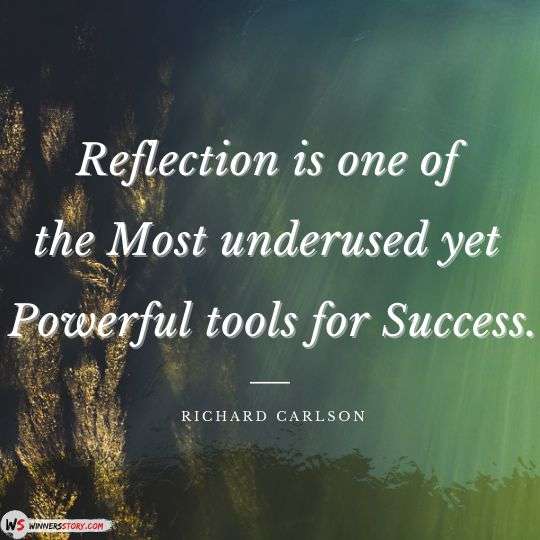 ---
4. "The more reflective you are, the more effective you are."– Hall and Simeral
---
5. "Without reflection, we go blindly on our way, creating more unintended consequences, and failing to achieve anything useful." — Margaret J. Wheatley

---
6. "A day is not always bright, and nights are not always dark. All that matters is what's inside because day and night are a reflection of you." — Avantika
---
7. "The journey into self-love and self-acceptance must begin with self-examination until you take the journey of self-reflection, it is almost impossible to grow or learn in life." – Iyanla Vanzant
---
8. "I visualize where I wanted to be, what kind of player I wanted to become.  I knew exactly where I wanted to go, and I focused on getting there." – Michael Jordan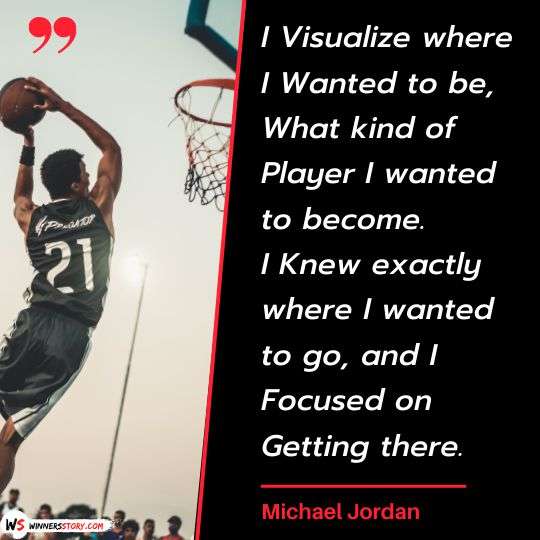 ---
9. "Sometimes, you have to look back in order to understand the things that lie ahead." — Yvonne Woon
---
10. "It is strange to reflect how much energy is thrown away in attempting to know the unknowable." — Joseph Barber Lightfoot
---
11. "When we strive to become better than we are, everything around us becomes better too." — Paulo Coelho
---
12. "You attract what you are, not what you want. So if you want it then reflect it."  — Tony Gaskins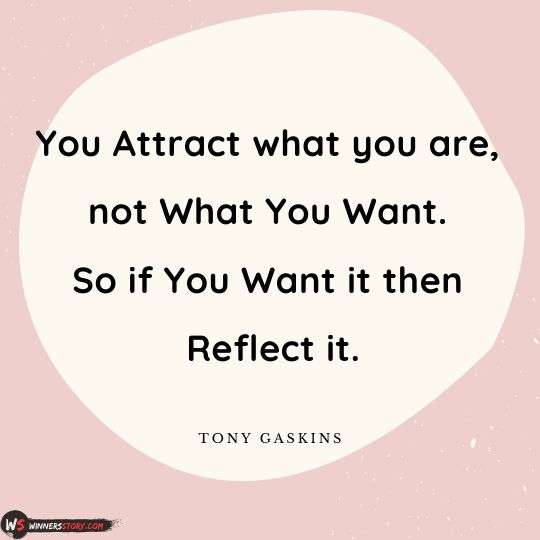 ---
13. "The way we reflect the world around us is the direct reflection of the world within us."  —Unkown
---
Self Reflection Quotes

With self-reflection, you get to know yourself much better and know why you are thinking or doing this. With this, you will have control of your thoughts and behavior.
14. "Our self-image, strongly held, essentially determines what we become." – Maxwell Martz
---
15. "Self-reflection is a kind of self-judgment. The difference is just this the former is positive and the latter is negative." —Balroop Singh
---
16. "Self-reflection is the school of wisdom." — Baltasar Gracian
---
17. "Honest self-reflection opens your mind to reprogramming, change, success, and freedom." – Vikas Runwal
---
18. "Self-reflection is a humbling process. It's essential to find out why you think, say, and do certain things…. then better yourself." – Sonya Teclai
---
19. "You cannot have a meaningful life without having self-reflection." — Oprah Winfrey
---
20. "Self-reflection is the gateway to freedom. It also brings greater appreciation and enjoyment. We begin to enjoy spending time with our own minds, and we enjoy reflecting on our experience of the teachings. Like the sun emerging from behind the clouds, the teachings of the dharma become clear." – Dzigar Kongtrul Rinpoche
---
21. "Time spent in self-reflection is never wasted – it is an intimate date with yourself." — Dr. Paul TP Wong
---
22. "Self-reflection is an important stage to diagnose, develop and strengthen your creativity." —Pearl Zhu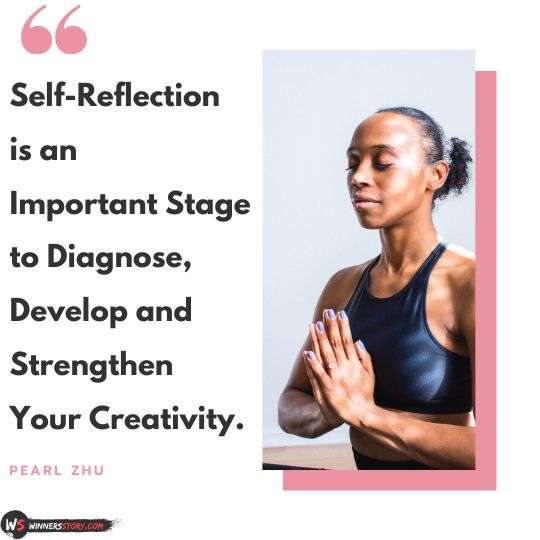 Image source: madison lavern from Unsplash
---
The Mirror is the first contact point to see Your True Self
23. "I stared at myself in the mirror, wondering what she saw that I didn't." — Sherri Lee Emmons
---
24. "In a mirror is where we find a reflection of our appearances, but in a heart is where we find a reflection of our soul." — Unknow
---
25. "Life is a mirror and will reflect back to the thinker what he thinks into it." — Ernest Holmes
---
26. "Like water which can clearly mirror the sky and the trees only so long as its surface is undisturbed, the mind can only reflect the true image of the Self when it is tranquil and wholly relaxed." — Indra Devi
---
Impact of Reflections in Your Life
27. "Life is only a reflection of what we allow ourselves to see and be." — Trudy Symeonakis Vesotsky
---
28. "Our power lies in our small daily choices, one after another, to create eternal ripples of a life well-lived." — Mollie Marti
---
29. "We are what our thoughts have made us; so take care about what you think. Words are secondary. Thoughts live; they travel far." — Swami Vivekananda
---
30. "I have always preferred the reflection of the life to life itself." — Francois Truffaut
---
31. "The state of your life is nothing more than a reflection of your state of mind." — Wayne Dyer
---
32. "Honest self-reflection opens your mind to reprogramming, change, success, and freedom." —Unknown
---
33. "Your life is a reflection of your thoughts. If you change your thinking, you change your life." — Brian Tracy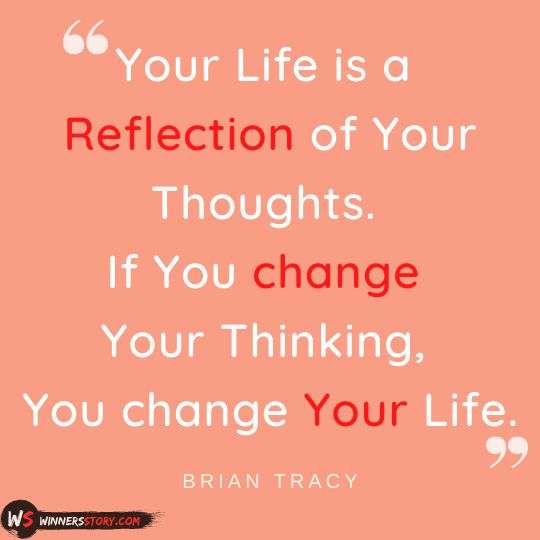 ---
34. "Your greatest self has been waiting your whole life; don't make it wait any longer." — Dr. Steve Maraboli
---
35. "Remind yourself that you cannot fail at being yourself." — Wayne Dyer
---
36. "Everything in your life is a reflection of a choice you have made. If you want a different result, make a different choice." — Unknown

---
37. "Everyone and everything that shows up in our life is a reflection of something that is happening inside of us." — Alan Cohen
---
Quotes on Importance of using Reflection in Your Work
In the work environment, we often weigh our own emotions and react to situations. Instead take your time and understand, what is correct from your point of view may be wrong from other's point of view?
So, self-evaluate first on What you have done or going to do is correct or not. Then you can convey your opinion in your workplace. This will help you to make the situation better.
38. "Don't become too preoccupied with what is happening around you. Pay more attention to what is going on within you." — Mary-Frances Winters
---
39. "He that knows himself, knows others." — Charles Caleb Colton
---
40. "Dwell not on the faults and shortcomings of others; instead, seek clarity about your own." —  Buddha
---
41. "Everybody is like a magnet. You attract to yourself reflections of that which you are. If you're friendly then everybody else seems to be friendly too." — David R. Hawkins
---
42. "We do not learn from experience. We learn from reflecting on experience." — John Dewey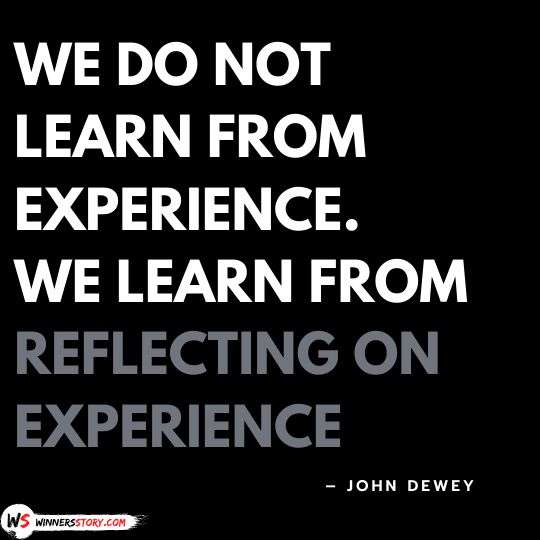 ---
43. "A moment of silence is actually a very loud moment." — Nouf Alfadl
---
44. "Whenever you find yourself on the side of the majority, it is time to pause and reflect." — Mark Twain
---
45. "What is the good of experience if you do not reflect?" — Frederick II
---
46. "Self-awareness gives you the capacity to learn from your mistakes as well as your successes." — Lawrence Bossidy
---
47. "Compare less. Reflect more." — Unknown
---
48. "When you really listen to another person from their point of view and reflect back to them that understanding, it's like giving them emotional oxygen." — Stephen Covey
---
For Teachers and Students
49. "Never forget to remain a student while you teach others." — Jerry Cortsen
---
50. "What a teacher is, is more important than what he teaches." — Karl Menninger
---
51. "Great leaders develop through a never-ending process of self-study, self-reflection, education, training, and experience." — Tony Buon
---
52. "Self-awareness doesn't stop you from making mistakes, it allows you to learn from them." — Unknown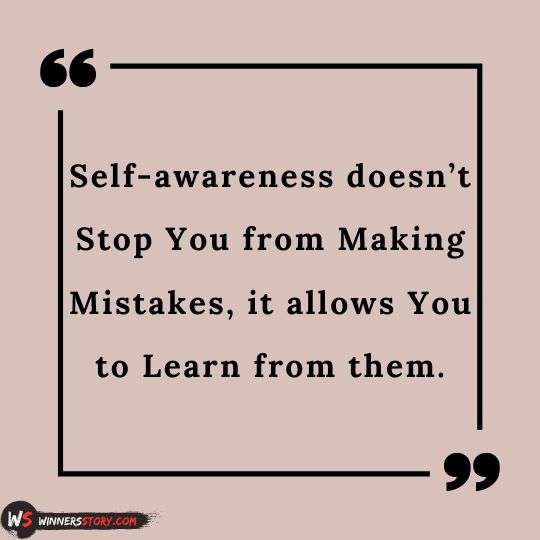 ---
53. "Excellence is the gradual result of always striving to do better." — Pat Riley
---
54. "It is the mark of an educated mind to be able to entertain a thought without accepting it." — Aristotle
---
55. "No matter how good teaching may be, each student must take the responsibility for his own education." — John Carolus
---
The Power of Water to reflect your life
56. "One cannot reflect in streaming water. Only those who know internal peace can give it to others." — Lao Tzu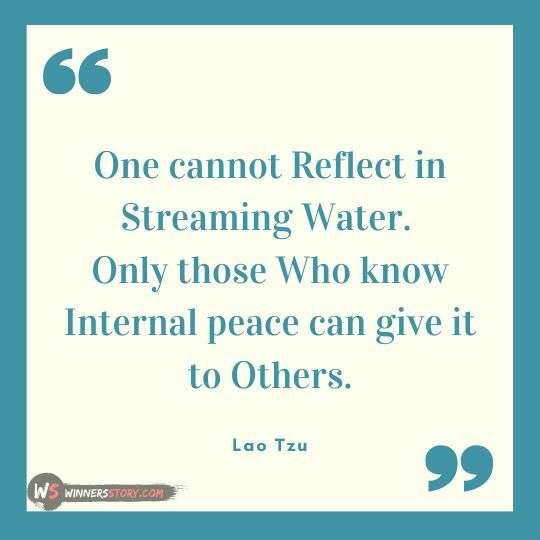 ---
57. "Zen masters say you cannot see your reflection in running water, only in still water." — Elizabeth Gilbert
---
58. "We cannot see our reflection in running water. It is only in still water that we can see." — Zen
---
59. "As water reflects the face, so one's life reflects the heart." — Proverb
---
60. "As social beings, we live with our eyes upon our reflection but have no assurance of the tranquillity of the waters in which we see it." — Charles Horton Cooley
---
What are Your favorite Quotes about Reflection?  Comment below 

More Quotes collection for you:
50 Inspirational Quotes about the Future for Success in Life
50+ Quotes to Inspire you to be Success in Your Life and Business