Do you remember? Wizard school, Magic wand, Quidditch game, and all the fantasy substance which thrilled us in our childhood. That fantasy world was created by one of the bestselling authors of all time, J.K. Rowling. She has created a chapter where it's written in everybody's life.
I still remember when I was 15, waiting in a long queue to get the movie tickets for "Harry Potter and the Philosopher's Stone" and the movie has taken us to a completely new world.
After watching the movie, our imagination is like, I'll do this and that if I also get the magic wand. This is the kind of impact she is created with her writing.
But J.K. Rowling's success was not overnight, she had to struggle for over a decade to achieve her dream. Her Eureka's movement for the Harry Potter series came during her delayed train journey to London from Manchester in 1990. But her first book of the series "Harry Potter and the Philosopher's Stone" was released only in 1997. Before her first book release, she has to go through difficult situations.
But her courage and ambition for writing made her world's first author with a billionaire tag. Her life has been inspirational for so many people. Let's look at some of JK Rowling quotes which will be inspirational to our life. 
J.K. Rowling Quotes about Books



1. Find the right book
Image source
"If you don't like to read, you haven't found the right book." – J.K. Rowling
2. Books are mirrors

"Books are like mirrors if a fool looks in you cannot expect a genius to look out" – J.K. Rowling
J.K. Rowling Quotes on Life

3. Anything is possible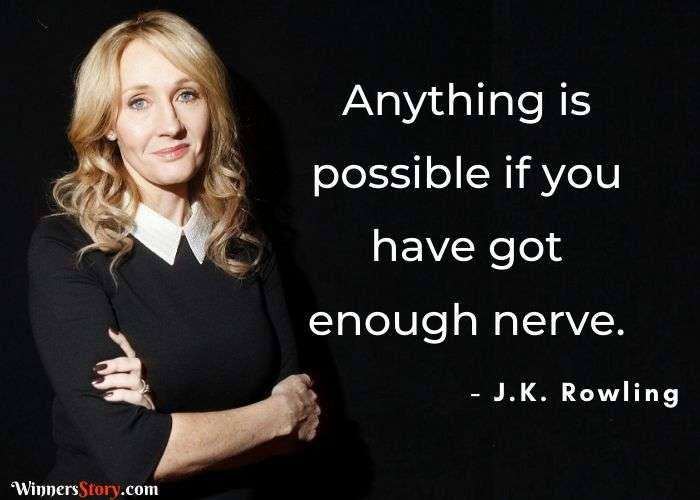 "

Anything is possible if you have got enough nerve.

"

– J.K. Rowling
4. Just have to meet

"What's coming will come and we'll just have to meet it when it does."– J.K. Rowling
5. Treat with caution

"Truth is a beautiful and terrible thing and must, therefore, be treated with great caution."– J.K. Rowling
6. Meet the world

"When people are very damaged, they can often meet the world with a kind of defiance."– J.K. Rowling
7. Knack of choosing

"Humans have a knack for choosing precisely the things that are worst for them."– J.K. Rowling
8. Great of bravery

"It takes a great deal of bravery to stand up to our enemies, but just as much to stand up to our friends."– J.K. Rowling
9. Impossible to live without fail

"It is impossible to live without failing at something unless you live so cautiously that you might as well not have lived at all, in which case you have failed by default."– J.K. Rowling
J.K. Rowling Quotes on Reading 
Also Read: Top 26 Abdul Kalam Quotes that are motivational and inspiring
10. Read a lot

"Read a lot. Reading really helps. Read anything you can get your hands on." – J.K. Rowling

11. Reading will help you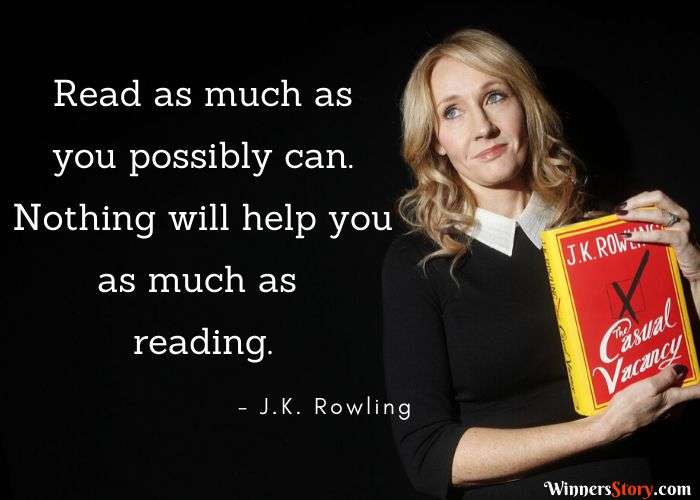 "Read as much as you possibly can. Nothing will help you as much as reading." – J.K. Rowling


12. What makes good writing

"The most important thing is to read as much as you can like I did. It will give you an understanding of what makes good writing and it will enlarge your vocabulary." – J.K. Rowling
J.K. Rowling Quotes about Writing

13. Talent and ink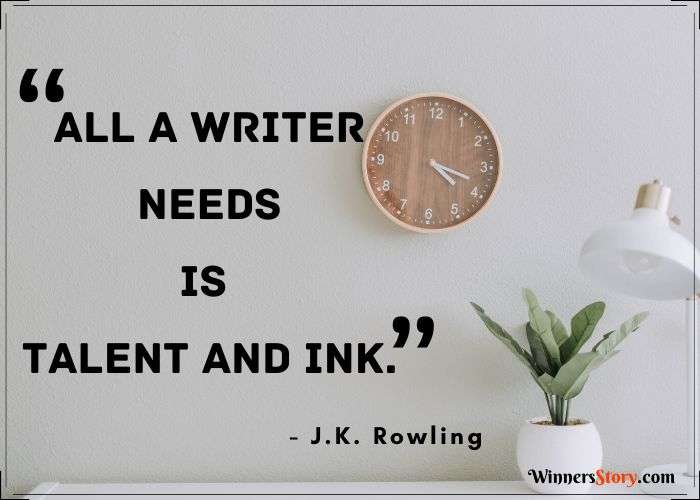 "All a writer needs is talent and ink.

"

– J.K. Rowling

14. The loneliest profession in the world

"Write what you know, your own interests, feelings, beliefs, friends, family and even pets will be your raw materials when you start writing. Develop a fondness for solitude if you can, because writing is one of the loneliest professions in the world." – J.K. Rowling

15. Totally for myself

"I just write what I wanted to write. I write what amuses me. It's totally for myself. I never in my wildest dreams expected this popularity." – J.K. Rowling

16. He gave me a job

"Harry Potter' gave me back self-respect. Harry gave me a job to do that I loved more than anything else." – J.K. Rowling
J.K. Rowling Quotes about people

17. The true measure of a man

"If you want to see the true measure of a man, watch how he treats his inferiors not his equals." – J.K. Rowling
18. Our choices

"It is our choices that show what we truly are, far more than our abilities.

"

– J.K. Rowling