With sales figures of close to 200 Million records across the globe, Taylor Swift is one of the bestselling music artists of all time. She also has been referred to as one of the greatest songwriters of all time and the best of her generation by various publications and organizations.
Taylor Swift has been an idol for many youngsters and the most admired female musician in the world. Even with so much success in life, she remains polite and never lets her stardom go to her head.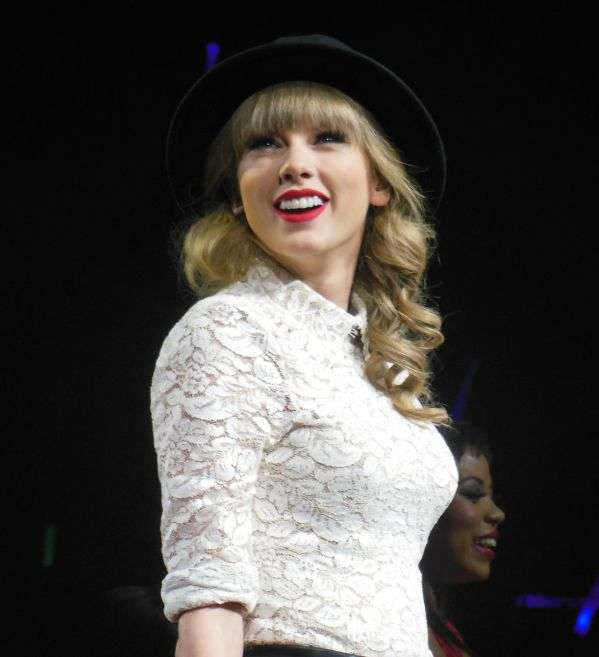 Image Source: Creative Commons via Flickr 
Once Michelle Obama described Swift as an artist, "Who has rocketed to the top of the music industry but still keeps her feet on the ground, someone who has shattered every expectation of what a 22-year-old can accomplish".
Swift gives respect and interacts with her fans regularly across platforms. The relationship she shares with her fans is a major factor contributing to her success.
She has been a real motivation for all of us. Let's look at some of the inspirational Taylor Swift quotes and lyrics from her songs to brighten your day.
Taylor Swift Motivational Quotes
1. "Be yourself, chase your dreams, and just never say never. That's the best advice I could ever give someone."
---
2. "Never believe anyone who tells you that you don't deserve what you want."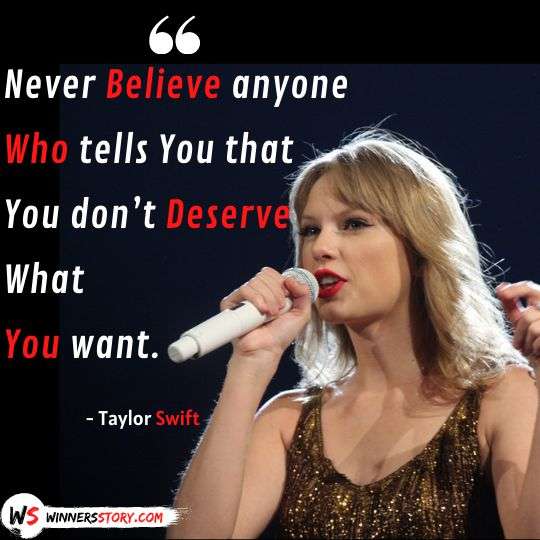 Image Source: Eva Rinaldi from Flickr
---
3. "You are not the opinion of someone who doesn't know you."
---
4. "Everybody has that point in their life where you hit a crossroads and you've had a bunch of bad days and there's different ways you can deal with it and the way I dealt with it was I just turned completely to music."
---
5. "Just be yourself, there is no one better."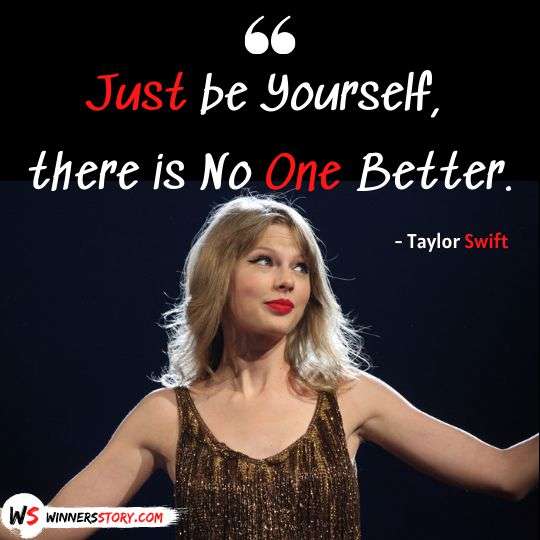 Image Source: Eva Rinaldi from Flickr
---
6. "It's hard to fight when the fight ain't fair."
---
7. "There are two ways you can get through the pain. You can let it destroy you, or you can use it as fuel to drive you: to dream bigger, work harder."
---
8. "Happiness and confidence are the prettiest things you can wear."
---
9. "I think fearless is having fears but jumping anyway."
---
10. "Just because you make a good plan, doesn't mean that's what's gonna happen."
---
11. "Giving up doesn't always mean you're weak sometimes you're just strong enough to let go."
---
12. "If you are lucky enough to find something that you love, and you have a shot at being good at it, don't stop, don't put it down."
---
13. "I've always strived to be successful, not famous."
---
Taylor Swift Quotes on Music and Songs
14. "Songs for me are like a message in a bottle. You send them out to the world, and maybe the person who you feel that way about will hear about it someday."
---
15. "People haven't always been there for me, but music always has."
---
16. "I wish all teenagers can filter through songs instead of turning to drugs and alcohol."
---
17. "People like music when they're in love, but they don't need it as much. You need music when you're missing someone or you're pining for someone or you're forgetting someone or you're trying to process what just happened."
---
Taylor Swift Quotes/Lyrics from her Songs
18. "Don't you worry your pretty, little mind. People throw rocks at things that shine." – From Ours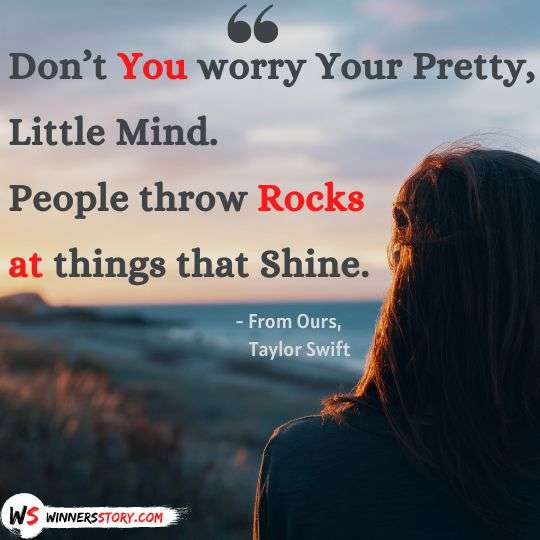 Image Source: Ross Sneddon on Unsplash
---
19. "Never be so polite. You forget your power. Nevеr wields such power. You forget to be polite." – From Marjorie
---
20. "Nothing safe is worth the drive." – From Treacherous
---
21. "When you're young, you just run, but you come back to what you need." – From This Love
---
22. "Don't you worry your pretty little mind, people throw rocks at things that shine." – From Ours
---
23. "The road not taken looks real good now" – From tis the damn season
---
Taylor Swift Quotes about Love
24. "There are no rules when it comes to love."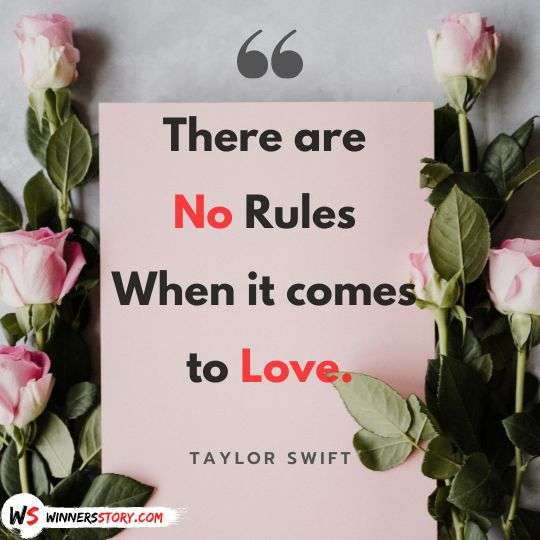 Image Source: Annie Spratt on Unsplash
---
25. "I think the perfection of love is that it's not perfect."
---
26. "If you're yelling you're the one who's lost control of the conversation."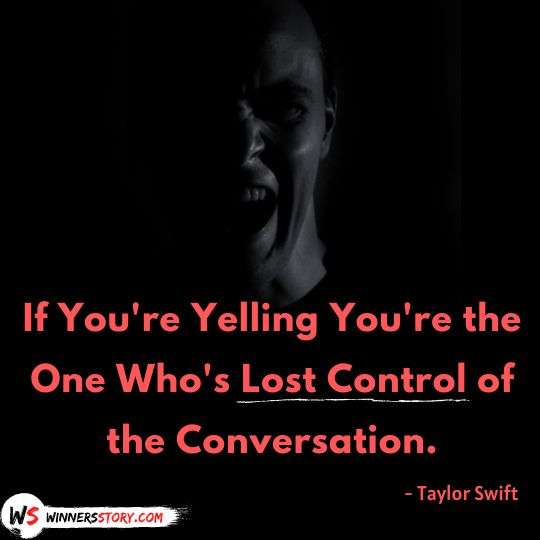 Image Source: Marina Kazmirova on Unsplash
---
27. "Relationships are like traffic lights. And I just have this theory that I can only exist in a relationship if it's a green light."
---
28. "In a relationship each person should support the other; they should lift each other up."
---
29. "When you are missing someone, time seems to move slower, and when I'm falling in love with someone, time seems to be moving faster."
---
30. "Your feelings so are important to write down, to capture, and to remember because today you're heartbroken, but tomorrow you'll be in love again."
---
31. "Love is the one wild card."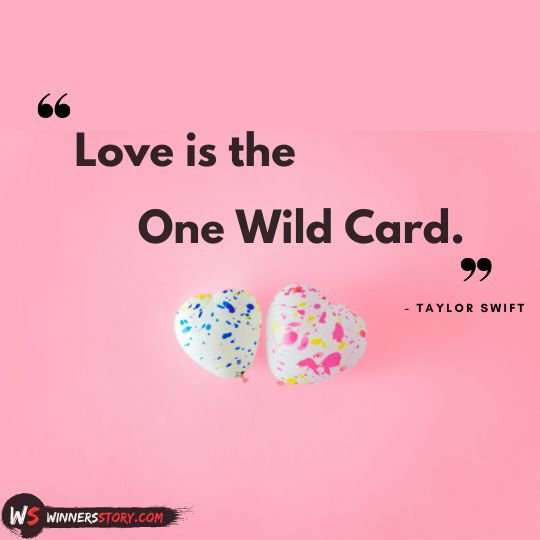 Image Source: Akshar Dave on Unsplash
---
32. "We should love, not fall in love, because everything that falls, gets broken."
---
Taylor Swift Quotes about Friendship
33. "I love making new friends and I respect people for a lot of different reasons."
---
34. "We don't need to share the same opinions as others, but we need to be respectful."
---
Taylor Swift Quotes about Life
35. "We don't need to share the same opinions as others, but we need to be respectful."
---
36. "No matter what happens in life, be good to people. Being good to people is a wonderful legacy to leave behind."
---
37. "Life is a ruthless game unless you play it good and play it right."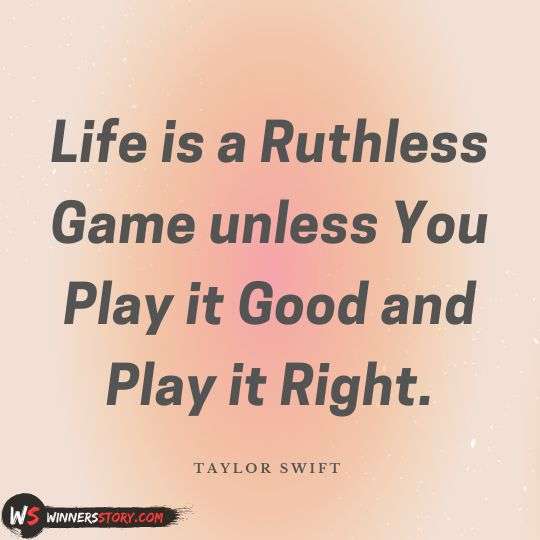 ---
38. "The lesson I've learned the most often in life is that you're always going to know more in the future than you know now."
---
39. "Life is like walking, you take one step at a time."
---
40. "I don't compare myself to anyone else; I don't make comments about anyone else because they do what feels right for them, and that's okay by me."
---
41. "In life, you learn lessons. And sometimes you learn them the hard way.  Sometimes you learn them too late."
---
42. "I think there is a lesson in knowing that you can live your life in a way that you're proud of and people are still gonna take shots."
---
43. "As your career grows, the list of things that makes you happy should not become smaller, it should become bigger."
---
44. "Life isn't how to survive the storm; it's about how to dance in the rain."
---
45. "As soon as I accomplish one goal, I replace it with another one. I try not to get too far ahead of myself. I just say to myself, 'All right, well, I'd like to headline a tour,' and then when I get there, we'll see what my next goal is."
---
What are your Favorite Taylor Swift Quotes?  Comment below 
More Quotes collection for you:
56 Best Motivational quotes by Dwayne Johnson aka The Rock to make your day
35 Inspirational Quotes From Nikola Tesla on Success