You might have seen somewhere in your life about the vision and mission of the Company, College, School, websites, etc., Similarly, do you have a vision in your life?.
Vision helps you to control the direction you move towards your dream. It's the foundation of your life. Vision is your dream and from that, you create your short and long-term goals. And when you start working towards your goal, it gives you clarity and purpose in your life. Finally, your vision comes into reality.
To help you understand further the importance of vision in your life, we have compiled 50 inspiring vision quotes from great people.

Inspirational Vision Quotes
1. "Every moment is a golden one for him who has the vision to recognize it as such." – Henry Miller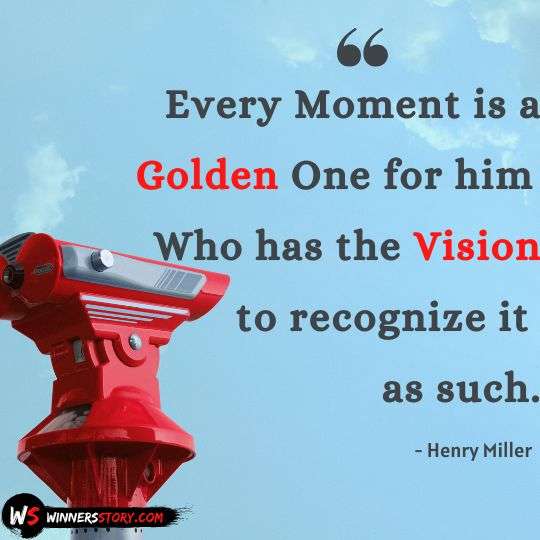 Image Source: Pixabay on Pexels
---
2. "Where there is no vision, there is no hope." – George Washington Carver
---
3. "An artist is not paid for his labor but for his vision." – James Whistler
---
4. "The vision must be followed by the venture. It is not enough to stare up the steps, we must step up the stairs." – Vance Havner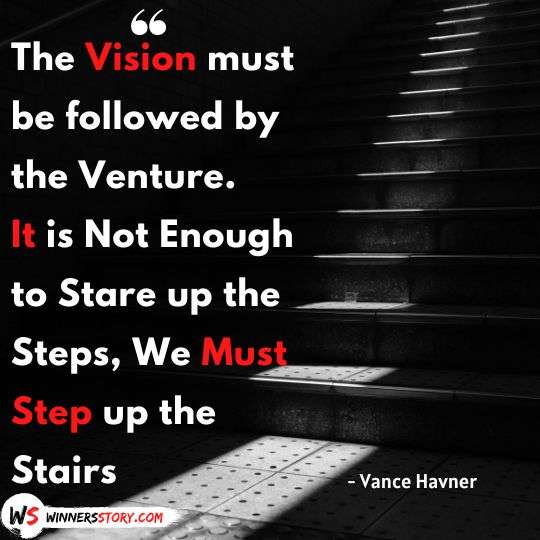 Image Source: Mark on Unsplash
---
5. "Without execution, 'vision' is just another word for hallucination. – Mark V. Hurd
---
6. "One's vision is not a road map but a compass." – Peter Block
---
Leadership Vision Quotes
7. "Leadership is the capacity to translate vision into reality." – Warren Bennis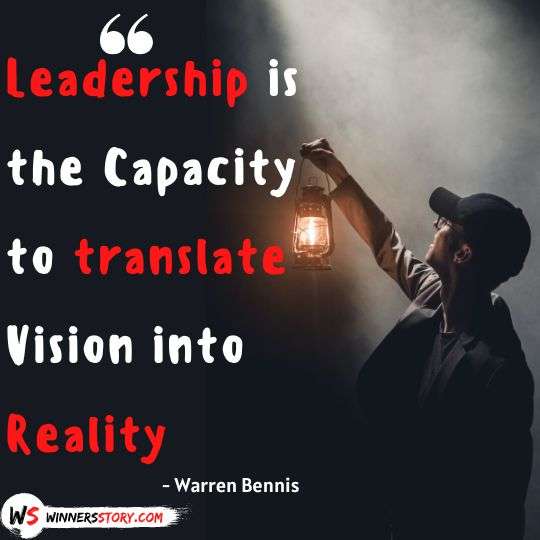 Image Source: Severin Höin on Unsplash
---
8. "Leadership is about vision and responsibility, not power." – Seth Berkley
---
9. "Teamwork makes the dream work, but a vision becomes a nightmare when the leader has a big dream and a bad team." – John C. Maxwell
---
10. "Leadership is working with goals and vision; management is working with objectives." – Russel Honore
---
11. "Leadership is having a compelling vision, a comprehensive plan, relentless implementation, and talented people working together." – Alan Mulally
---
12. "Let me define a leader. He must have vision and passion and not be afraid of any problem. Instead, he should know how to defeat it. Most importantly, he must work with integrity." – A. P. J. Abdul Kalam
---
Vision for Life Quotes
13. "In order to carry a positive action we must develop here a positive vision." – Dalai Lama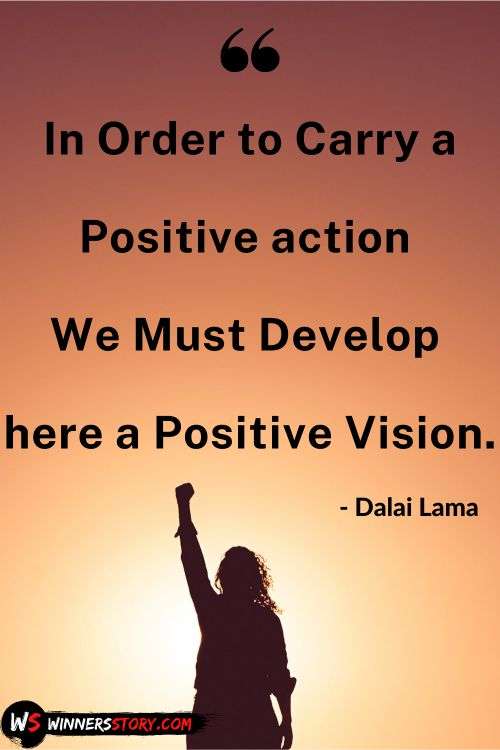 Image Source: Miguel Bruna on Unsplash
---
14. "Make your vision so clear that your fears become irrelevant." – Unkown
---
15. "Vision without action is merely a dream. Action without vision just passes the time. Vision with action can change the world." – Joel A. Barker
---
16. "The best vision is insight." – Malcolm Forbes
---
17. "The one thing that you have that nobody else has is you. Your voice, your mind, your story, your vision. So write and draw and build and play and dance and live as only you can." – Neil Gaiman
---
18. "Doing Good is a simple and universal vision. A vision to which each and every one of us can connect and contribute to its realization. A vision is based on the belief that by doing good deeds, positive thinking, and affirmative choice of words, feelings, and actions, we can enhance goodness in the world." – Shari Arison
---
19. "I've learned that if I only put my mind to one thing that I can get tunnel vision. Then I may not be as open to other opportunities because I'm so focused on one thing. I think what's worked better for me personally is I have three goals every day – Be nice, work hard, and make friends. " – Gigi Hadid
---
20. "If you create a vision for your life, doors will open." – Unkown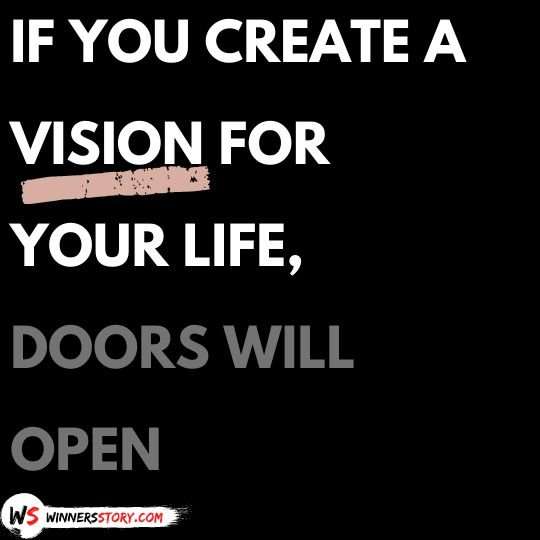 ---
21. "Create the highest grandest vision possible for your life, because you become what you believe." – Oprah Winfrey
---
Vision Quotes for Business
22. "Clarify your vision. Plan with precision." – Unkown
---
23. "Good business leaders create a vision, articulate the vision, passionately own the vision, and relentlessly drive it to completion." – Jack Welch
---
24. "It takes vision and courage to create – it takes faith and courage to prove." – Owen D. Young
---
25. "The only thing worse than being blind is having sight but no vision." – Helen Keller
---
26. "You have to have a big vision and take very small steps to get there. You have to be humble as you execute but visionary and gigantic in terms of your aspiration. In the Internet industry, it's not about grand innovation, it's about a lot of little innovations: every day, every week, every month, making something a little bit better." – Jason Calacanis
---
Woman with Vision Quotes
27. "The path from dreams to success does exist. May you have the vision to find it, the courage to get on to it, and the perseverance to follow it." – Kalpana Chawla
---
28. "A vision is not just a picture of what could be; it is an appeal to our better selves, a call to become something more." – Rosabeth Moss Kanter
---
29. "Little girls with dreams become women with vision." – Unkown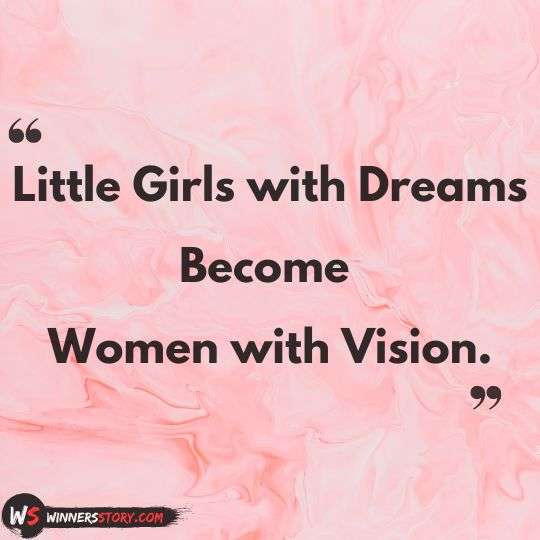 Image Source: Pawel Czerwinski on Unsplash
---
30. "When you have a vision that is strong enough and powerful enough, nothing can stand in your way." – Lewis Howes
---
Vision to Reality Quotes
31. "Have a vision. It is the ability to see the invisible. If you can see the invisible, you can achieve the impossible." – Shiv Khera
---
32. "Dreams can become a reality when we possess a vision that is characterized by the willingness to work hard, a desire for excellence, and a belief in our right and our responsibility to be equal members of society." – Janet Jackson
---
33. "If you want to turn a vision into reality, you have to give 100% and never stop believing in your dream." – Arnold Schwarzenegger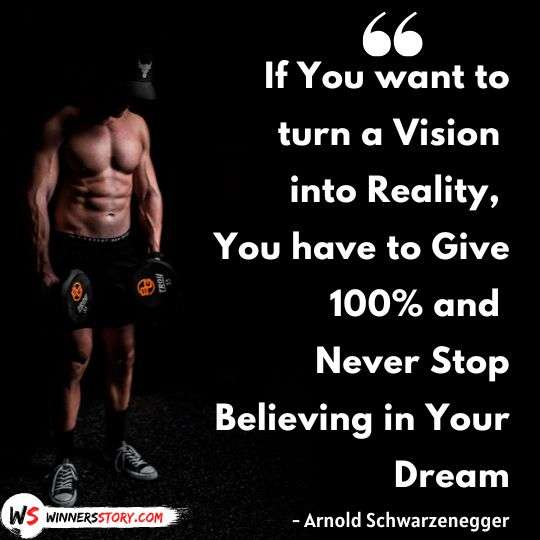 Image Source: Anastase Maragos on Unsplash
---
34. "If you can dream it, you can do it." – Walt Disney
---
Vision for Success Quotes
35. "Clarity of vision is the key to achieving your objectives." – Tom Steyer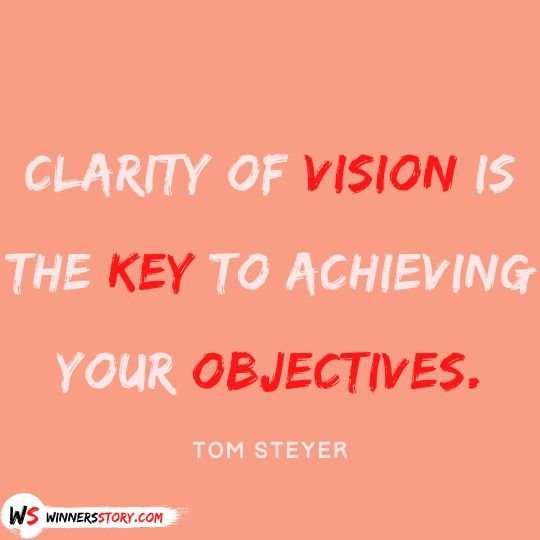 ---
36. "Hold the vision, trust the process." – Unkown
---
37. "Chase the vision, not the money." – Tony Hsieh
---
38. "The bravest are surely those who have the clearest vision of what is before them, glory and danger alike, and yet notwithstanding, go out to meet it." – Thucydides
---
39. "Your vision will become clear only when you can look into your own heart. Who looks outside, dreams; who looks inside, awakes." – Carl Jung
---
40. "Success is about dedication. You may not be where you want to be or do what you want to do when you're on the journey. But you've got to be willing to have vision and foresight that leads you to an incredible end." – Usher
---
Vision to Goals Quotes
41. "If there's a goal, you can't stop me. I'll put my head down. I'll have tunnel vision and I'll go until I get it." – Dennis DeYoung
---
42. "Strategic planning is worthless – unless there is first a strategic vision." — John Naisbitt
---
43. "Vision is a picture of the future that produces passion." – Bill Hybels
---
44. "It's important to be true to yourself and your vision." – Nicole Polizzi
---
45. "The vision of a champion is bent over, drenched in sweat, at the point of exhaustion when nobody else is looking." – Mia Hamm
---
46. "If you don't have a vision you're going to be stuck in what you know. And the only thing you know is what you've already seen." – Iyanla Vanzant
---
47. "Be brave enough to live the life of your dreams according to your vision and purpose instead of the expectations and opinions of others." – Roy T. Bennett
---
Best Quotes on Vision
48. "We are limited not by our abilities but by our vision." – Unkown
---
49. "Don't underestimate the power of your vision to change the world. Whether that world is your office, your community, an industry, or a global movement, you need to have a core belief that what you contribute can fundamentally change the paradigm or way of thinking about problems." – Leroy Hood
---
50. "If you have no vision of yourself in the future, then you have nothing to live for." – Les Brown
---
Featured Image Source: Paul Skorupskas on Unsplash
What are your Favorite Vision Quotes?  Comment below 
More Quotes collection for you:
40 Inspirational Passion Quotes to Follow Your Dream in Life
35 Motivational Quotes by Shah Rukh Khan to bring Positivity in Your Life
50+ Quotes to Inspire you to be Success in Your Life and Business