Virat Kohli, "The Run Machine" in world cricket, has been a motivational figure to many people, particularly in the sports field. His dedication to the game has been top-notch throughout his career.
Virat Kohli shows a lot of aggression in the game which never affected his game nor his respect for the opponents.
Let us look at some of Virat Kohli quotes that will boost your confidence to the next level.
Virat Kohli Quotes on Hard work, Passion, Fitness, and more
1. Passion and Hard Work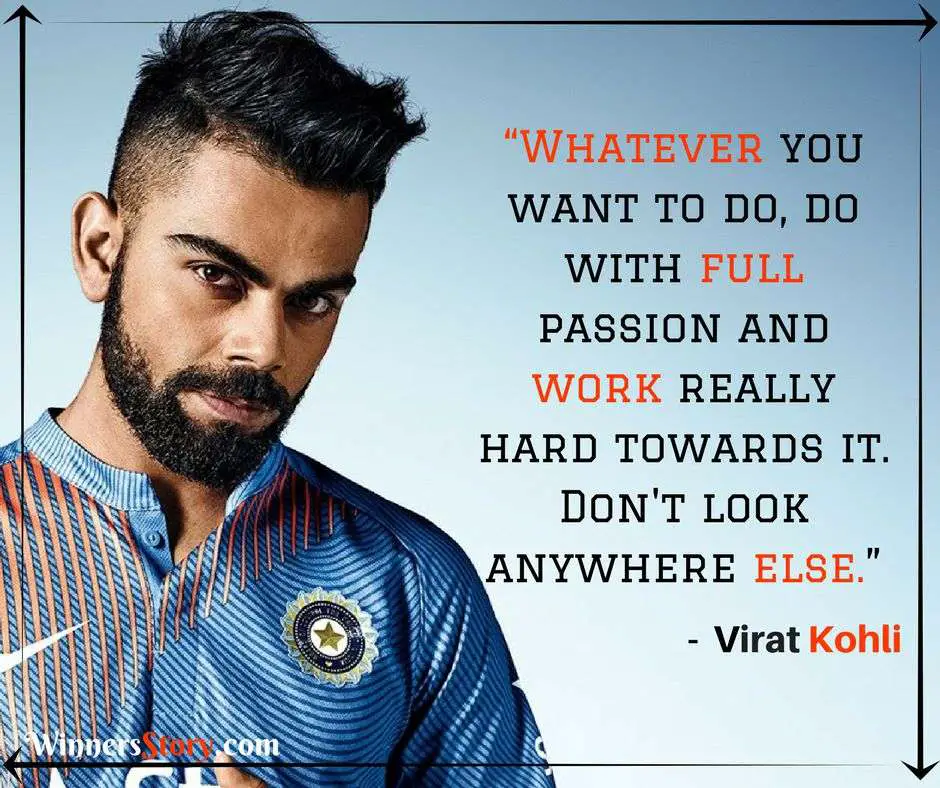 Image source
"Whatever you want to do, do with full passion, and work really hard towards it. Don't look anywhere else."– Virat Kohli
---
2. Bat is My Lethal Weapon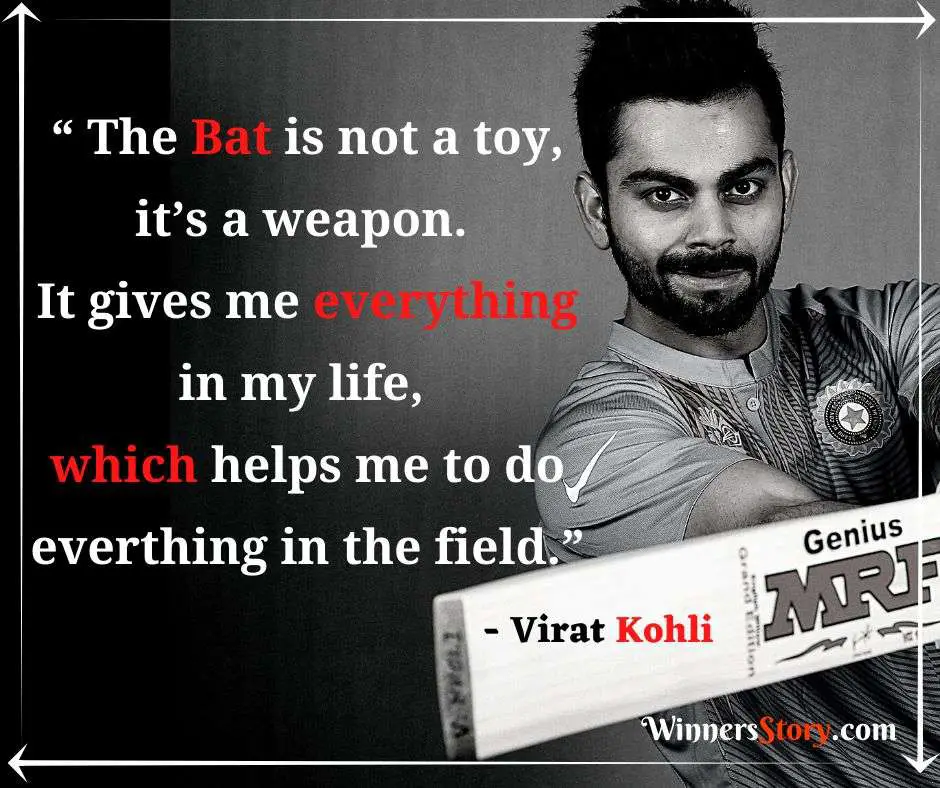 Image source
"The bat is not a toy, it's a weapon. It gives me everything in my life, which helps me to do everything in the field."– Virat Kohli
---
3. TeamWork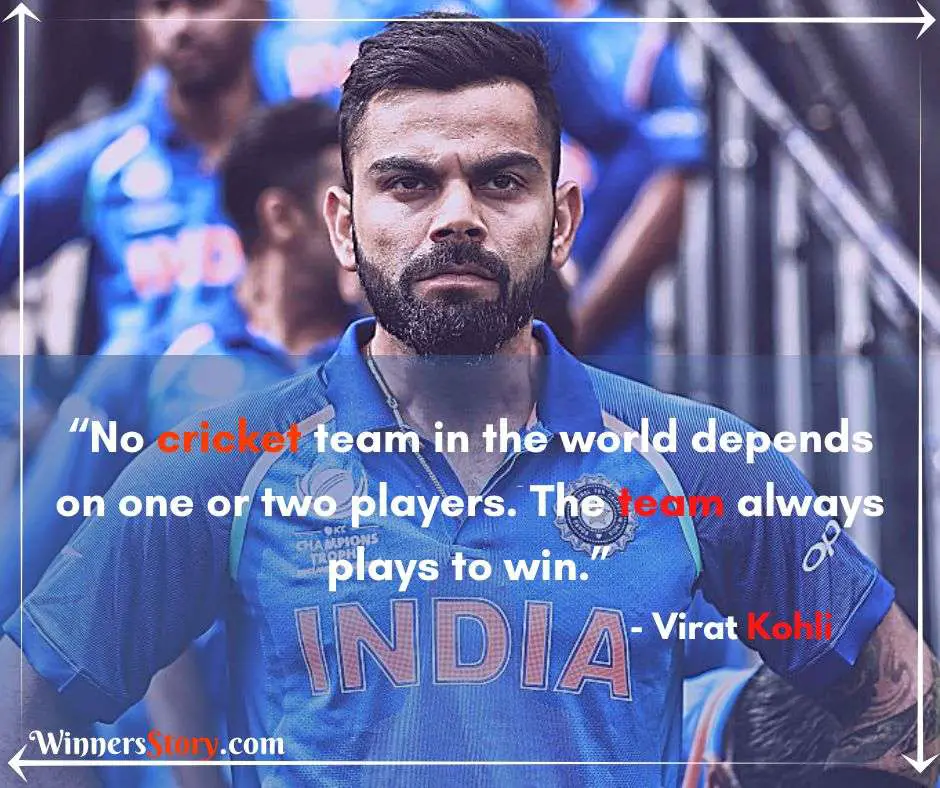 "No cricket team in the world depends on one or two players. The team always plays to win."– Virat Kohli
---
4. Improve Yourself on Every Shot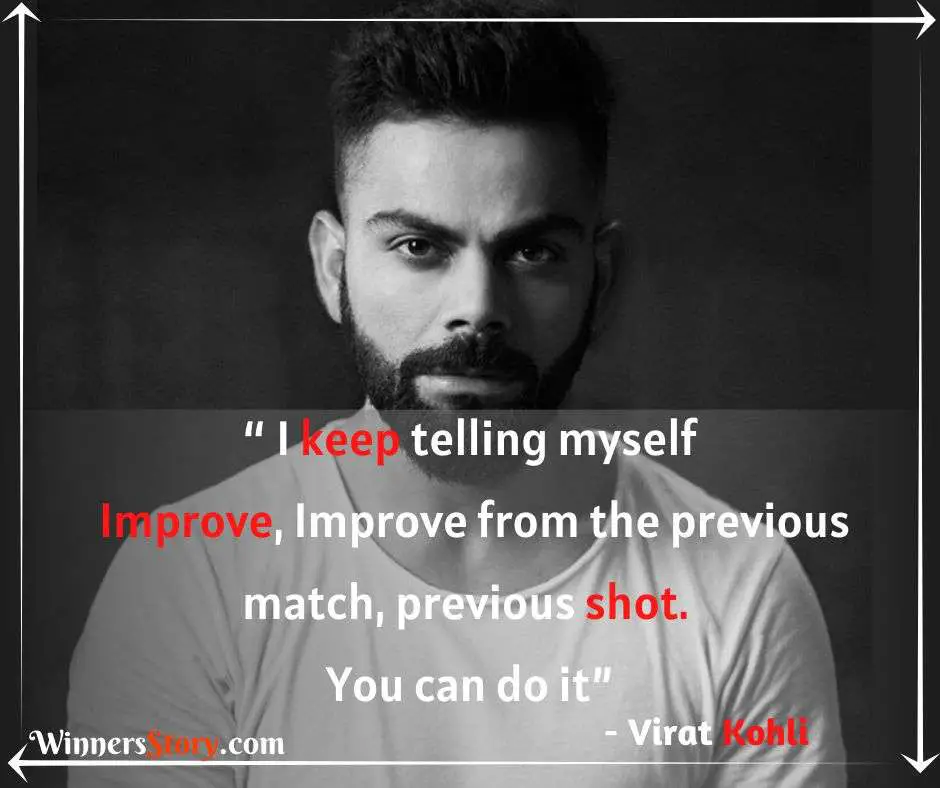 Image source
"I keep telling myself "Improve, Improve from the previous match, previous shot. You can do it." – Virat Kohli
---
5. Pressure Makes You Perfect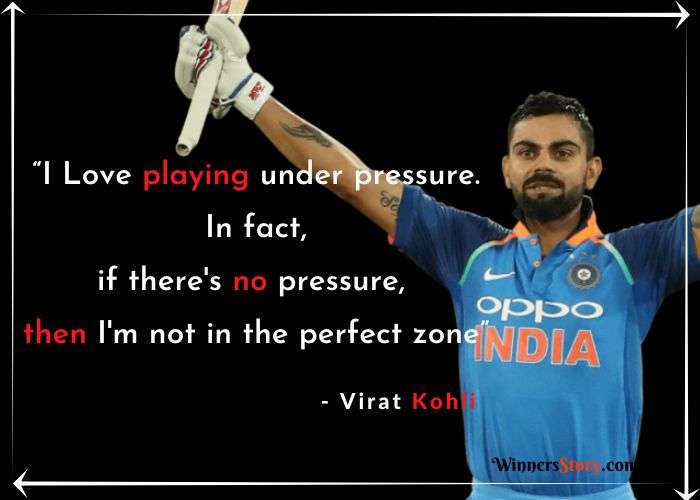 "I love playing under pressure. In fact, if there's no pressure, then I'm not in the perfect zone."– Virat Kohli
---
6. Dream and Make it happen
"I always dreamt of holding the bat and winning games for India. That was my inspiration to take up cricket."– Virat Kohli
---
7. Be Fit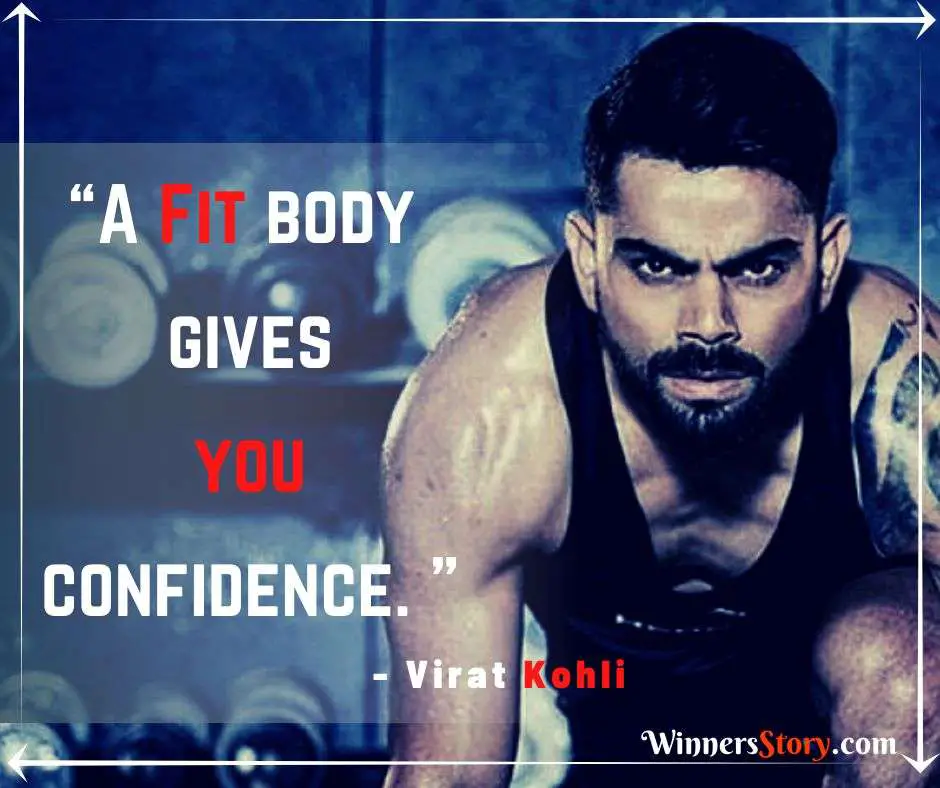 "A Fit body gives you confidence."– Virat Kohli
---
8. Be a Hero Not a Villian
"In the game of cricket, a hero is a person who respects the game and does not corrupt the game."– Virat Kohli
---
9. Abuse Yourself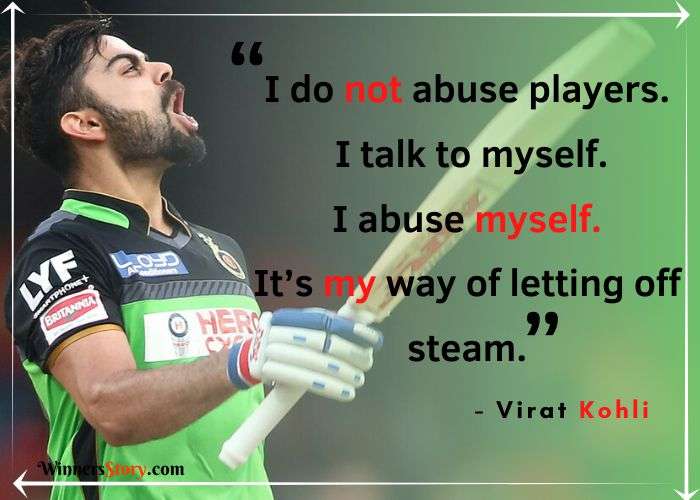 Image source
"I do not abuse players. I talk to myself and I abuse myself. It's my way of letting off steam."– Virat Kohli
---
10. Keep Yourself Fresh and Blank
"You have to stay fresh and blank in your mind when you go out to bat. You complicate things, and you're gone."– Virat Kohli
---
11. Choose the Right People around You
"The people you choose to have around you make all the difference."– Virat Kohli
---
12. Recognize Your Weakness
"Pretension is a poor joke than you play on yourself. Snap out of it. Recognize your strengths, work on your weaknesses. Real achievement is liking what you see in the mirror every morning"– Virat Kohli
---
13. Responsibility to perform
"I get really motivated when I put on the Indian jersey. It is a responsibility, so I want to perform the best way I can."– Virat Kohli
---
14. Work hard on Your Talent
"Irrespective of whether you have a talent or not, one has to work hard. Just being talented doesn't mean anything. You can end up wasting it before you realize it."– Virat Kohli
15. Be an Inspiration
"Becoming an inspiration for kids is great. I want to inspire them to do whatever they want to."– Virat Kohli
---
16. Self-Belief in Success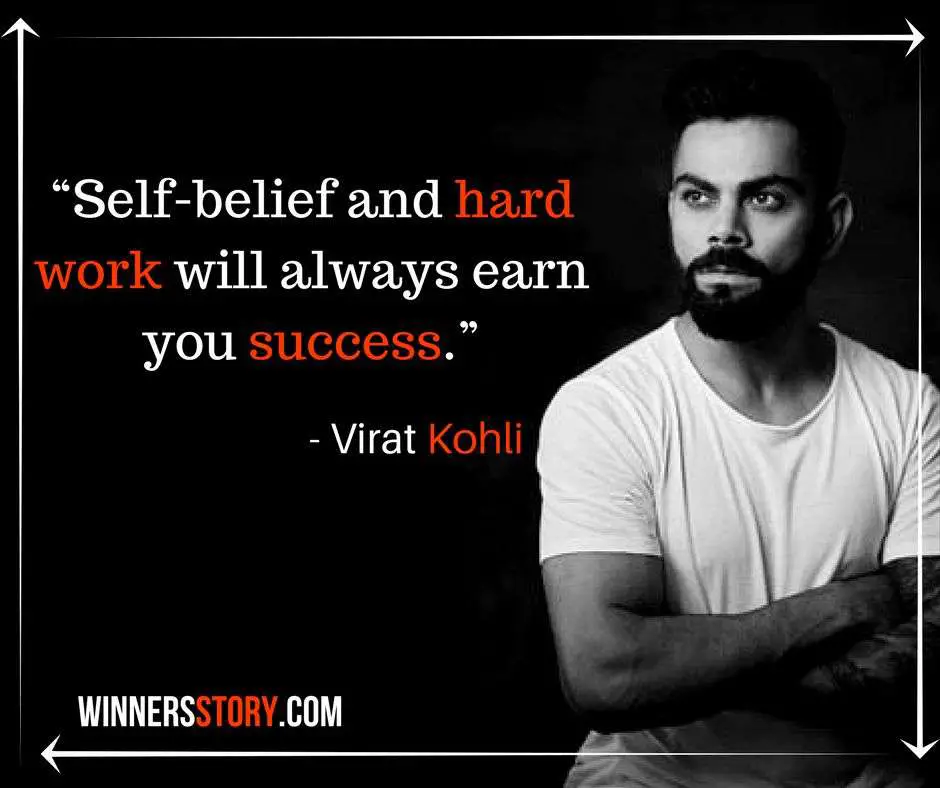 Image source
"Self-belief and Hard Work will always earn you success "– Virat Kohli
---
17. Have Attitude but Don't Be Rude
"There's nothing more impressive than a great attitude, which you can wear on your sleeve. But you have to remember the difference between being rude and being confident."– Virat Kohli
---
18. Lead From the Front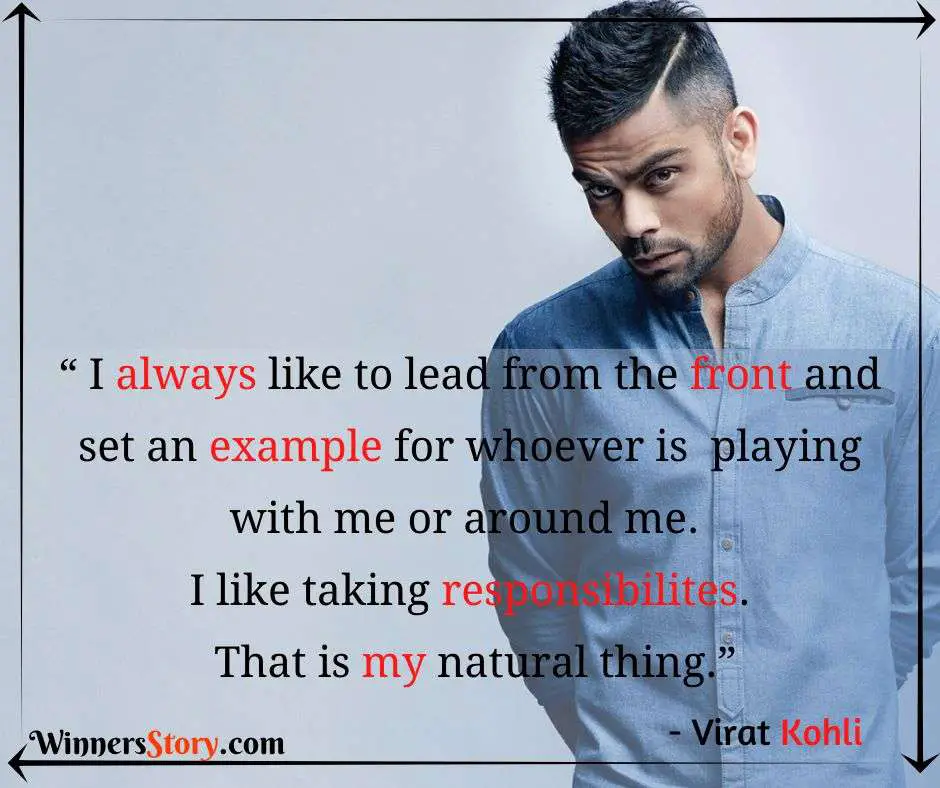 Image source
"I always like to lead from the front and set an example for whoever is playing with me or around me. I like taking responsibility. That is my natural thing."– Virat Kohli
---
19. Superhero Sachin Tendulkar
"My superhero has always been Tendulkar, and it will be Tendulkar for life. He is someone who has inspired me immensely. Just watching him play for India, I used to dream of winning games for India because he used to do it single-handedly."– Virat Kohli
---
20. Don't let it Distract You
"A lot of people tell me a lot of things about my conduct, my game, my future… but I try to stay away from their words of wisdom. I don't let it distract me. On the field, you will be facing the ball alone. If you fail, you will be the only one to blame. So, you should be the one deciding for yourself."– Virat Kohli
---
21. Work Hard and Get Benefits
"I don't think there is anything wrong with earning money from the sport you love. If you work hard and get benefits from it, there is no harm. The day you feel that you are not working hard and are only looking at the benefits, that's where the problem is."– Virat Kohli
---
22. Don't Focus on Off the Field
"I don't really focus on these things – on what tags are given to me or what people think of me off the field – stuff like that. My main focus is always to do well on the field for the Indian cricket team. When people say good things about me off the field, I am more than happy to accept them."– Virat Kohli
---
We hope you are motivated by reading Virat Kohli quotes.
What are your Favorite Virat Kohli Quotes?  Comment below 
More Quotes collection for you:
35 Motivational Quotes by Shah Rukh Khan to bring Positivity in Your Life
26 "Master Blaster" Sachin Tendulkar quotes
35 Inspirational Quotes from MS Dhoni on Life, Failure, Pressure, and Cricket

Information check:
We strive for accuracy and fairness. If you see something that is not correct, please get in touch with us!