What is Resilience? 
It is the ability to bounce back quickly from challenging situations to be happy and victorious. 
Resilience is one of the essential life skills one has to develop. In today's world, most of us feel let down whenever we are in a difficult situation. Sometimes we don't even try to come out of it. We have seen people wasting their entire life after encountering adversity, health issues, the death of a loved one, or financial losses. 
When life is like a straight road, there is no fun in traveling the unchallenged path. It has to be challenging so that we will become tough. We should face and adapt it in our life. The more resilient you become, the quicker you will bounce back. 
The road to resilience is full of stress. But once we travel it successfully, we can achieve many things in our life. 
Let us look at 3 inspiring short stories on resilience to make you a resilient personality in life.
---
#1. Short Stories on Resilience –
Dream of Olympics to Para Olympics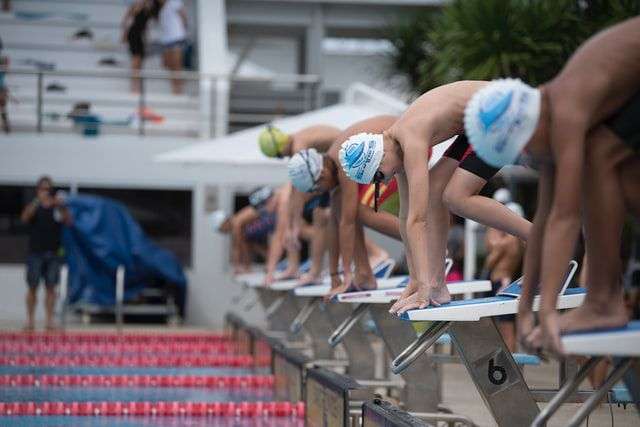 Image Source: Arisa Chattsa from Unsplash 
Peter has been swimming from the age of 3. He has won many medals in swimming events since then. He had the nickname "Dolphin!. His dream was to win an Olympic medal for his country.
One day Peter, and his father were traveling in a car to participate in a swimming event. While driving, their car met with an accident. Both he and his father were severely injured. 
They were, admitted to a nearby hospital. Sadly, Peter's father died due to a severe head injury, and he lost both his hands.
It took some days for him to get conscious. Hearing that his father is no more with him and the pain of losing both his hands shattered his dream.
After three months of treatment, he returned home. The void created by his father's death haunted him.
As the days passed, one day, he came across an old poster crafted by his father saying, "Proud to be Peter's father. One day my son will win the Olympic medal!. Seeing this, he cried loudly. Hearing this, his mom came and consoled him.
She said, "Peter, your father always wanted you to achieve big in swimming. And I am sure you are going to full fill his dreams". 
He replied, "Mom, how can I? Can't you see me".
She said, "This is not the end of the world. Go and find a way to achieve your dream. There is always a way, my Dolphin."
Peter then started exploring the path to achieve his dream and set a medal at Paralympics as his target. Initially, it was very difficult for him during the training. But he was resilient and trained hard.
Peter started participating in the para swim events. He slowly progressed and kept breaking his records. Then he started winning the events. After two years of hard work, he got selected to represent his country in the Paralympics.
Peter participated and won two gold and one silver medal for his country, with two world records.
After he returned to his home, he said to his mother, " Mom, I Fulfilled my father's dream. But this is not the end!".
He went on win multiple medals in the Para Olympics. 
Moral of the story:
Always have a belief that this is not the end of the world. Push yourself harder to recover from the difficult situation. Be resilient to come back stronger to achieve what you dreamed.
It's easy for anyone to think about the past and hide from the world. Remember, you can always spring back. Initially, it will be challenging, but as the days pass, you will be in the zone of resilience. 
---
#2. Short Stories on Resilience – The Fear of Public speaking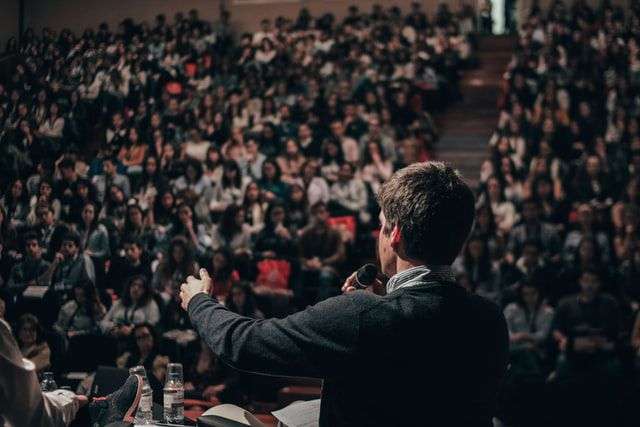 Image Source: Miguel Henriques from Unsplash 
Raghu was a shy person since his childhood. He always had a fear of talking to people. After finishing school, he joined a college, where he had to relocate to a city from his hometown.
He stayed in the college hostel, and for the first time in his life, he was staying away from family. It was a new experience for him, staying with so many people around him.
The environment made him comfortable, and he started talking freely to his friends and lecturers. Raghu's confidence started growing immensely. With the help of his friends, he started practicing public speaking.
One day he got the opportunity to give a speech at the college annual event. He prepared himself very well for the event.
On the event day, he got nervous seeing the large crowd. His body started shivering, and no words came out of his mouth. Students in the auditorium began whispering. Seeing Raghu's struggle, his professor told him to present at the end.
Raghu went backstage and started crying. His friend consoled and said, "Raghu, you prepared very hand for this. Just remove any thoughts in your mind. You are Resilient. Go and present yourself, and I believe you can do it".
After some time, he went again to present. He was still nervous. He took a few deep breaths and said to himself, "You are tougher than what you think. You can do this".
As he started his speech, his voice turned the attention of everyone in the auditorium. He was very confident and immediately went into the flow.
After his speech, people gave him a standing ovation. On that day, Raghu gave one of the best speeches. 
Moral of the story:
Opportunities come rarely. Even when you fail to grab them in the first attempt, you have to recover quickly and try again.
The more you face failures, the more you become resilient. And in the future, whenever you encounter any challenging situations, you will have the ability to spring back, to reach your success and happiness.
---
#3. Short Stories on Resilience –
Resilient Family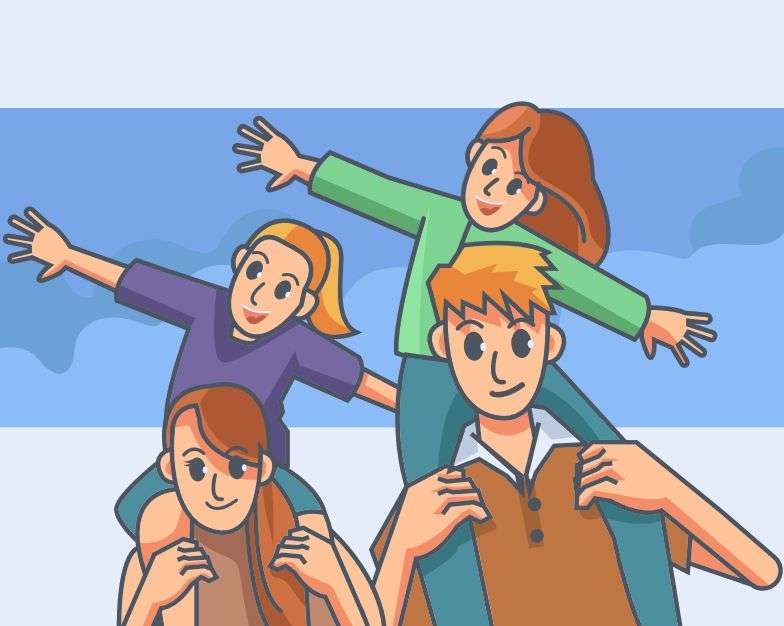 Image Source: Freevector
In a village, there was a family of four. Father was a mechanic while mother was a tailor. They had two daughters. They planned to move to a city for their daughter's education. 
Both their daughters got admission to a well-established school. Father took a mechanic job in a company while the mother joined as a tailor in a textile company. 
As the days passed, the workload for both father and mother increased. In their father's company, some of the co-workers delegate most of their work to him since they use the power of being key members of the Employee's Union and him being a newbie and outsider. On the mother's side, her company forces her to work overtime to increase the output. 
Meanwhile, students in their daughter's class started teasing them. They complained to their parents about that. His father told them, "In life, we may face adversity, and it can affect each one of us differently. But it is up to us to decide how we react to that. 
So, I would suggest you react positively. Focus on your studies. If things go out of your control, you can complain to the teachers. Otherwise, focus on your life, soon others will understand." 
Then mother asked him, "We are also facing a similar situation in our work. What do we have to do?" 
He replied, "For us right now, we have to give our daughters proper education and improve our financial situation. So, we need to manage this stress and use it as a ladder in our life. We have to be resilient in difficult situations to bounce back". 
As the years passed, all of them excelled in their career. As a family, they were happy and financially stable.
The elder daughter becomes a Doctor, and the Younger one becomes a Pilot. Father is now chief mechanic and the Union leader. Mother is now a supervisor in her company. 
They experienced adversity, stress, threats, health problems, and financial problems throughout their life. But collectively, as a family, they faced each situation with resilient behaviors, thoughts, and actions that helped them grow and achieve their dreams. 
Moral of the story:
Life is full of twists and turns, and every day it gives us challenges. It affects each one of us differently. But we can manage them comfortably if we are resilient. 
Resilience is not something extraordinary we cannot learn. We can learn over time by facing challenging situations and bouncing back. It empowers You to grow and improve your life.
---
Featured Image Source: Daniel Reche on Pixabay
Do you like these Short Stories on Resilience? Share now for more reach!
More stories to Read: 
3 Inspiring Short Stories on Faith to Make You Trust Yourself
3 Inspiring Short Stories about Courage for You to become Fearless in Life